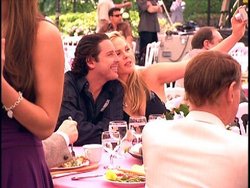 Los Angeles, CA (PRWEB) October 3, 2008
Reality TV Royalty Jonathon Baker, Victoria Fuller along with their daughter Trease Baker will be featured on five episodes of Girls Next Door Season Five which debuts on October 5 on E!. With Hugh Hefner as a close family friend and confidante, Jonathon, Victoria and Trease get a rare glimpse into a lifestyle with access to all kinds of unique opportunities.
And what does two-year-old Trease think of Uncle Hef's private zoo? Trease, just starting to grow into her role as Reality Toddler will be sharing her thoughts with the world - most likely before she can tie her shoes! Hef's said she is the Shirley Temple of our time.
Girls Next Door features playmates Holly, Bridget and Kendra, along with Hugh Hefner for the juiciest season of this hit series yet. Queen Bee Holly Madison tries her hand at motherhood with the help of young Trease, the group visits Disneyland and Victoria snags the MVP award during a celebrity softball game. Victoria, the girls and all their mothers also spend Mother's Day at Skin Spa then Jonathan and Trease show up with flowers for all the mommies (http://www.skinspa.com), Skin Spa does what it does best - pamper them. Jonathon and Hef man it up during the Mansion's Wednesday night card game and wait until you see who shows up to surprises Hef.
Girls Next Door airs on E! Entertainment Television, check local listings for airtimes. You can catch up with Jonathan, Victoria and Trease at: http://www.jonathanbakerandvictoriafuller.com and don't miss http://www.realityminute.com for the latest juiciest insider scoop with reality expert Jonathan Baker for all your inside information.
Contact:
Elizabeth(at)thinkhijinx.com
(213) 713-4865
###