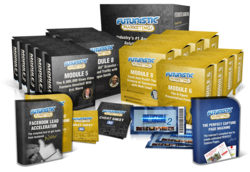 If you want to automate your sales and income using technology, this video will show you the secret on how to do it,
Palm Coast, FL (PRWEB) July 23, 2012
Jonathan Budd of "Futuristic Marketing", the revolutionary new marketing course, has released his third video titled 'Futuristic Influence'. This third video, is designed to show you what the most powerful force in marketing is. To view the third video, please visit http://www.magneticsponsoring.com/Jonathan-Budd-Video-3
"In video 3, I am fully pulling back the curtain on the most powerful technology solution today to earn more money in your business completely automated," says Mr. Budd, who, as an online marketer, has earned over $14 million in his businesses. "This is exactly what the most elite marketers on the planet do to run their multi-million dollar enterprises, and for the first time I'm revealing it all for free."
Futuristic Marketing has two main training modules called 1) Futuristic Traffic and 2) Futristic Influence. Each module teaches what is working today. Jonathon and Mark Hoverson, his partner on the project, don't stop at only teaching the methods. They have spent thousands of dollars creating and perfecting push button software to help implement the techniques.
"If you want to automate your sales and income using technology, this video will show you the secret on how to do it," says Mr. Budd.
"The Futuristic Marketing program is literally the most valuable product ever created," says Nick Haubner of Magnetic Sponsoring. "It's the most valuable product I've ever seen launched on the Internet. I'm convinced we're going to create the most success stories we've ever seen created while raising the bar for delivering more value to the marketplace."
Tim Erway, CEO of Magnetic Sponsoring, is supporting the launch of "Futuristic Marketing" by putting together the best group of marketing minds in the Industry. This group has been dubbed "Team Vicious and Delicious," and includes top marketers Ryan Angelo, Raymond Fong and Ferny Ceballos, Andrew Cass, Didi Alcheva, Curt Maly, Katie Freiling, Mia Davies, Michael Force, Maria Andros, Adam Chandler, Jordan Schultz, David Schwind, and Jesse Jameson.
"We're giving away well over $30,000 in real value," says Magnetic Sponsoring CEO Tim Erway. "I'm talking about Macbooks, iPads and other cool prizes as well as some killer stuff from some of the most successful, smartest and I dare say, sexiest marketers on planet earth!"
To watch the videos and learn more about these awesome prizes, please visit http://www.magneticsponsoring.com/futuristic-marketing-bonuses