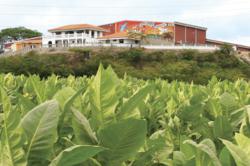 Jonathan still views the company as a premium boutique cigar manufacturer.
Easton, PA (PRWEB) May 17, 2013
The all-new Cigar Advisor is an online cigar magazine that brings a fresh, irreverent, and down-to-earth perspective on all things cigars to thousands of smokers. In addition to educational cigar content and behind-the-scenes cigar industry articles from some of the business's top names, Cigar Advisor delivers an array of content about a variety of topics of interest to people who enjoy the cigar lifestyle. The magazine also features cigar reviews and ratings submitted by real smokers. Cigar Advisor has just released an article from Jonathan Drew of Drew Estate Cigars, called "Boutique is in the Heart" that touches on how - despite its size – it's still a small, family company in his heart.
Drew Estate has one of the largest cigar manufacturing facilities in the world, producing 92,000 hand-rolled cigars per day, every day. The company produces some of the most popular brands on the market including Acid cigars, a unique infused brand as well as more traditional brands like Liga Privada and Joya de Nicaragua. Despite their size and production volume, the company's namesake, Jonathan Drew, still views the company as a premium boutique cigar manufacturer.
"One of the things that I cherish the most about my career of cigar making is spending time in Nicaragua with the full Drew Estate and Cigar Safari team," writes Jonathan. Nicaragua is the home of Drew Estate; it has become his personal home, as well. Throughout the years, he has spent close to 80% of his time there, and "When you spend that much time in one place, believe me - you get to know it well," Drew says. Attending various Cigar Safari trips with both veteran and new cigar smokers has become an important part of his life.
Cigar Safari is a tour run for consumers, traveling to Nicaragua to see the sights, experience the culture, and live the world of tobacco. The trip is four days, three nights - and during each tour, Jonathan gets to spend significant one-on-one time with everyone attending. He writes that he truly cherishes these moments, as they allow him to unwind, get to know new cigar advocates, get feedback on how Drew Estate is doing as a company, and learn what his business can do to make the cigar smoking experience better for everyone throughout the world. Which is why he still feels as though his company is intimate enough to have the "boutique" label.
So, at what point does a "Boutique Cigar Company" lose its roots and become a "Corporate Cigar Company?" Jonathan answers that the same way he answers, "When does a person become old?" It's defined in the person's heart, their attitude and, in his case, perception.
People interested in learning more about Cigar Advisor should visit CigarAdvisor.com where they can read the articles and sign up to be notified when new articles are released.
About Cigar Advisor Magazine
Cigar Advisor magazine is a digital publication created for real cigar enthusiasts who love tobacco and live the lifestyle. Cigar smokers are passionate about almost everything they do - whether it's the drinks they savor, the food they devour, the cars and motorcycles they dream of, the sports they're fanatical about or the women they love, Cigar Advisor shares those passions with a razor-sharp edge, soaking up each day and experience as if it were our last. Find that passion and more on display at CigarAdvisor.com.