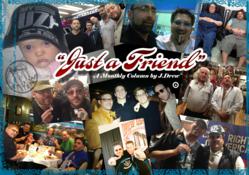 That's what cigar smoking is all about, that's what life is all about - camaraderie, friendship, love for our brothers and sisters.
Easton, PA (PRWEB) June 21, 2013
The all-new Cigar Advisor is an online cigar magazine that brings a fresh, irreverent, and down-to-earth perspective on all things cigars to thousands of smokers. In addition to educational cigar content and behind-the-scenes cigar industry articles from some of the business's top names, Cigar Advisor delivers an array of content about a variety of topics of interest to people who enjoy the cigar lifestyle. The magazine also features cigar ratings and reviews submitted by real smokers. Cigar Advisor has just published "Just a Friend" from Drew Estate co-owner Jonathan Drew, an article about how he found inspiration in an 80's rap song and how it influenced his outlook on friendship.
In his piece, Jonathan describes how many people have influenced his values, beliefs and wisdom: "Some of these people were transient, just passin' thru those green hills of Northern Nicaragua. Others never left my side. Either way, I can sincerely say that all of them have helped shape who I am as a man." He also describes his years growing up in New York, and identifying with rap artist Biz Markie. Jonathan says, "If the name doesn't ring a bell, maybe the song 'Just a Friend' does ... ("Girl, you got what I need, but you say he's just a friend")." He notes that the song influenced the name for Drew Estate's new Kentucky Fire Cured line, released as part of the My Uzi Weighs A Ton cigars.
Jonathan recounts an experience in 2012 at Leaf Cigar Bar in Easton, when the song came on; everyone sang the words together. "You see, this event was heavily attended by many people who I have met throughout my travels, and most I've known for years. We were just so thrilled to reunite together at Leaf that night." That experience, Drew notes, enlightened him. "The 'Just a Friend' song unlocked a whole different meaning for me and everyone in the room that rainy night. We were friends, finally all together in one place sharing cigars, drinks, hamburgers - and the stories of our lives. That's what cigar smoking is all about, that's what life is all about - camaraderie, friendship, love for our brothers and sisters."
According to Jonathan, "Just a Friend" resonated with him while emotionally supporting a friend, Chino, in his Nicaragua factory. Discussing a personal loss experienced by Chino and his wife, and the church service they attended together, Drew describes their friendship: "To my surprise they were both smiling, holding hands and healing right in front of me. A thing of beauty in the deep hills of northern Nicaragua that makes one proud to have made such friends. This, I quietly thought to myself, is what life is all about: loyalty, camaraderie and friendship."
About Cigar Advisor Magazine
Cigar Advisor magazine is a digital publication created for real cigar enthusiasts who love tobacco and live the lifestyle. Cigar smokers are passionate about almost everything they do - whether it's the drinks they savor, the food they devour, the cars and motorcycles they dream of, the sports they're fanatical about or the women they love, Cigar Advisor shares those passions with a razor-sharp edge, soaking up each day and experience as if it were our last. Find that passion and more on display at CigarAdvisor.com.