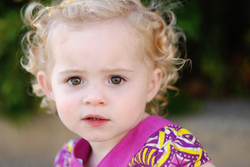 Reality Royalty and Amazing Race
Los Angeles, CA (PRWEB) October 6, 2008
"Reality Royalty and Amazing Race" parents Jonathan Baker and Victoria Fuller celebrate their Reality Baby Trease's second birthday on October 11, 2008 (http://www.TreaseBaker.com)] at the world famous Bob Baker Marionette Theater in Los Angeles, Calif. Media darling Trease is the original Reality Baby with an impressive credit list, having been on the cover for Disney Wonder Times and a major Baby Gap spot, as well as the star of the new Chicco Baby Line, and having landed a starring guest role on The Girls Next Door, Season 5 featuring family friend and confidante Hugh Hefner.
"Trease is the new Shirley Temple of our time," says Hugh Hefner.
Temple, who captured international affection during the 1920s and 1930s, was a house hold name at such a young age. Trease, having experienced international culture in front of the camera, is growing into her role as a young good will ambassador and reality royalty of our time (http://www.TreaseBaker.com). When asked why Trease is so star-like in front of the camera, Baker credited Kevin Burn, the shows producer, as being a reality TV Genus. "Kevin makes Reality TV magic like no one else in this industry," said Baker.
Attire for young attendees: Bonnie and Clyde era, old time gangster Zoot suits, glamor gowns and feather boas. The event will be filmed and will feature special celebrity guests. Press is invited to attend for this charming photo opportunity - and to enjoy the cupcakes and ice cream.
Festivities kick off 1:30 PM to 3 PM on Saturday, October 11, 2008 at the Bob Baker Marionette Theater: 1345 W. 1st St. Los Angeles, CA 90026. http://www.bobbakermarionettes.com
You can catch up with Jonathan, Victoria and Trease at: http://www.JonathanBakerandVictoriaFuller.com and don't miss http://www.RealityMinute.com for the latest juiciest insider scoop with reality expert Jonathan Baker.
Press Contact:
Elizabeth @ thinkhijinx.com
(213) 713-4865
###