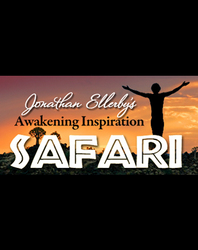 I will work directly with the participants in group teaching and meditation sessions held against one of the world's most spectacular backdrops: South Africa
Charlotte, NC (Vocus) September 8, 2010
Dr. Jonathan Ellerby, the Spiritual Program Director for the acclaimed Canyon Ranch Health Resorts and an esteemed expert of holistic healing, spiritual counseling, and integrative medicine, will host a 12-day Awakening Inspiration Safari through South Africa. The group safari is hosted by Hills of Africa Travel in conjunction with Want To Go Travel and is designed for anyone with a desire to awaken his or her passion for life and rejuvenate mind, body, and spirit.
"I will work directly with the participants in group teaching and meditation sessions held against one of the world's most spectacular backdrops: South Africa," says Ellerby, adding, "This trip is going to be intimate and life-changing."
Along with regular sessions with Jonathan and optional meditation and yoga, participants will discover the people, land, and wildlife of Africa. Some of the best and most knowledgeable African safari guides have been recruited to escort participants in leisure activities such as tours of the Capewinelands, game-viewing drives, and dining with locals.
Awakening Inspiration Safari begins with five nights at the five-star, waterside Cape Grace Hotel in Cape Town, South Africa. Cape Grace is one of a few select properties in South Africa to display the Fair Trade label.
The final seven nights are spent at the Madikwe Safari Lodge located on the Madikwe Game Reserve. Located on the ecological transition point from the Savannah to the Kalahari Desert, Madikwe Game Reserve has abundant wildlife, including the Big Five. Participants can relax between teaching sessions in their well-appointed suites, each of which features a personal plunge pool, circular fireplace, and private bathroom with a choice of indoor or outdoor shower.
Ellerby summarizes, "At the end of this amazing safari, participants will be culturally enriched and spiritually inspired to live a life they love."
The group safari runs from September 19, 2011, to October 1, 2011. For more information, please visit http://www.awakeninginspirationsafari.com.
More about Dr. Jonathan Ellerby:
Dr. Jonathan Ellerby is one of the most credible and accessible personalities today who helps people of all backgrounds to bring real change and vitality to everyday life by making timeless spiritual tools, alternative healing, and modern psychology simple to understand and easy to apply. He is the Spiritual Program Director for the acclaimed Canyon Ranch Health Resorts and a Hay House author of Return to the Sacred, Your Spiritual Personality, and the most recent book, Inspiration Deficit Disorder: The No Pill Prescription to End High Stress, Low Energy, and Bad Habits.
About Hills of Africa Travel:
Hills of Africa Travel is a tour provider based in Huntersville, North Carolina, specializing in African safari vacations for families, honeymooners, and anyone seeking an adventure. Owners Sandy Salle and Meredith Hill are passionate about sharing the magic of Africa with their clients and frequently travel with their families and lead group tours throughout southern Africa. To learn more about planning an African safari tour and to view possible itineraries, including FTTSA information, please visit http://www.hillsofafrica.com or call 800-940-9344.
###