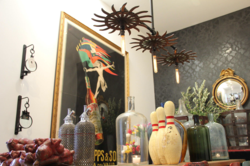 I believe in telling a story with every room I design, and the same applies to my private collection. Each piece I purchase has a story to tell that is still unfolding with its travels as it makes its way into new homes and new places.
Mill Valley, CA (PRWEB) October 08, 2012
San Francisco based globetrotting interior designer Jonathan Rachman of Jonathan Rachman Design announces his Marin debut of his private collection of global artifacts, available exclusively at Mill Valley interior furnishings boutique, Revelation. The Jonathan Rachman Collection highlights his love of collecting and re-purposing unique and patinaed curios from around the world. Antique silhouettes, vintage laboratory chemistry jars and brushed metal airplane wings are just a few of the items that create a fascinating blend through which one can peruse.
Jonathan Rachman burst onto the San Francisco Bay Area interior design scene with his Collector's Library at the 2012 San Francisco Decorator Showcase winning him much press attention and praise. Featuring an elegant European sensibility meets a touch of industrial design that was classic but current, timeless but also contemporary, his distinctive choice of objects evoked curiosity and conversation. Jonathan believes in preserving artifacts and found objects from the past for the enjoyment of the future generation. His design style is a harmonious collection of artifacts from Asia, Europe and America, be it antique, vintage or industrial. As Jonathan says, "I believe in telling a story with every room I design."
A few examples of pieces available at Revelation include:

A World War II American A-26B "Invader" bomber wing tip: Removing the paint exposed the original aluminum patina.
Bowling Ball: A marbled 1950's bowling ball.
Life as objects of art: Vintage European Fencing Mask And Foil, Set Of Two Print Blocks With Crests, and Vintage Chocolate Molds. The beautifully mundane details of everyday life, get a new lease as Rachman creates artful and inspired ways to display each artifact he collects.
Jonathan and his work have recently been featured in the highly regarded interior design blog The Style Saloniste by Diane Dorrans Saeks and in the San Francisco Chronicle's Stylemaker Spotlight. His interior design portfolio can be viewed on his website at http://www.jonathanrachman.com.
About Jonathan Rachman
Jonathan Rachman brings an international story to his firm. Born in Sumatra, educated in Switzerland and having lived in Europe, he now makes his home in San Francisco.
He has developed an appreciation for Indonesia's beauty and craftsmanship in its furniture and textiles. While living in Paris and Switzerland, Jonathon traveled Europe, becoming enamored with its antiques and architecture. His travel influences infuse his interiors, reflecting a thoughtfully elegant, global style. The collection and furnishing in this showcase collector's library tell the story of his journey.
Jonathan Rachman Design creates timeless, artful, interiors: interpretations of clients' personal styles and collections. Seamlessly blending the past and the present with thoughtful elegance, his designs are individually curated spaces with a bespoke point of view.
About Revelation:
Revelation is Mill Valley's newest interior furnishing boutique, curated by creative power couple, Michelle Bevilacqua and Robert Clink. Michelle's pedigree as interior designer and artist, and Robert's talent as a bespoke lighting designer inspired by found vintage objects, makes their store a refuge of inspiration and artistry where one can't help but stay a while and take in each piece that has made its way into the breezy store front.
Originally, the name for Clink's lighting design only, the "raison d'etre" for the company's moniker, "Revelation," is the search for the hidden wonder, the unexpected, inspirational and beautiful -- in life, and in design. This mission statement combined with Michelle's unique eye for the artistic, whether it is in her meticulously edited interior spaces she lovingly creates for clients, or her sought after charcoal sketches that are in demand by stylists and style makers of some of the nation's hottest lifestyle stores, the merging of the Clink's ideals behind the brand with Bevilacqua's interiors and product vision, creates a brick and mortar experience that has brought new life to the often sleepy and serene Mill Valley art and aesthetic scene. Since its September opening, the store has residents' buzzing about the fabulous display of products and designs, from the modern geometric stencil application on top of a inky venetian plaster in the dining room vignette at the back of the store, to the larger than life collection of images of Michelle's gorgeous family tree that hang front and center in the store's entry, each installation has an element of surprise, proving that the real revelation of art and interiors still lies in the truth that, as Michelle's five years living in France would disclose, "la vie est faits de petits bonheurs," or life is full of little pleasures. And this store is one of them.
Visit Revelation for yourself at 401F Miller Avenue, Mill Valley, CA. or online at http://www.therevelationcompanies.com. To speak to Michelle or Robert directly or learn more about Jonathan Rachman's Private Collection available at the store, phone (415) 383-2000.