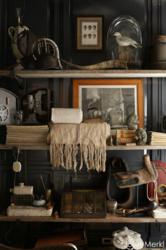 I believe in telling a story with every room I design.
San Francisco, CA (PRWEB) May 01, 2012
San Francisco based globetrotting interior designer Jonathan Rachman of Jonathan Rachman Design has created a gentleman's library at this years San Francisco Decorator Showcase that highlights his talent for and love of collecting and re-purposing. The overall design captures the ultimate in sustainability by re-purposing antiques, vintage items and found objects.
An elegant European sensibility meets a touch of industrial design for a gentleman's library that is classic but current, timeless but also contemporary. Each object evokes curiosity, becoming, in turn, a conversation piece. Every element contributes to an overall cohesive design. Jonathan believes in preserving artifacts and found objects from the past for the enjoyment of the future generation. His room is a harmonious collection of artifacts from Asia, Europe and America, be it antique, vintage or industrial. As Jonathan says, " I believe in telling a story with every room I design."
A few examples of his clever re-purposing include:

A World War II American A-26B "Invader" Bomber Wing tip. Removing the paint exposed the original aluminum patina. This classic wing tip is juxtaposed with a large, framed photograph on the opposite wall, entitled "Wing tip: Revisited" taken by Jonathan mid-flight during a trip to Bali, of a commercial wing tip, cohesively bringing together the old and new throughout the library.
Pendant Lights: Re-purposed Chicken Feeders take on a new life as lighting fixtures.
Table: Re-purposed from an industrial found object.
Shelving Unit: Scaffolding re-purposed into display shelving and bookcases.
Visit Jonathon's second floor room at the 2012 San Francisco Decorator Showcase. It is open from April 28-May 28, 2012 at 2020 Jackson Street in San Francisco. The house is open everyday of the week except Mondays. The hours are: Tuesday, Wednesday, and Saturday: 10:00 a.m.–3:00 p.m. (last entry), Thursday and Friday: 10:00 a.m.–7:00 p.m. (last entry), Sunday and Memorial Day: 11:00 a.m.–4:00 p.m. (last entry), CLOSED MONDAY (except Memorial Day).
Tickets are $30 each, seniors $25. More information on this annual charitable event benefiting the University High School scholarship fund, can be found at http://decoratorshowcase.org/
About Jonathan Rachman
Interior Designer Jonathan Rachman brings an international story to his firm. Born in Sumatra, educated in Switzerland and having lived in Europe, he now makes his home in San Francisco.
He has developed an appreciation for Indonesia's beauty and craftsmanship in its furniture and textiles. While living in Paris and Switzerland, Jonathon traveled Europe, becoming enamored with its antiques and architecture. His travel influences infuse his interiors, reflecting a thoughtfully elegant, global style. The collection and furnishing in this showcase collector's library tell the story of his journey.
Jonathan Rachman Design creates timeless, artful, interiors: interpretations of clients' personal styles and collections. Seamlessly blending the past and the present with thoughtful elegance, his designs are individually curated spaces with a bespoke point of view. To learn more about Jonathan Rachman Design, please visit http://www.jonathanrachman.com