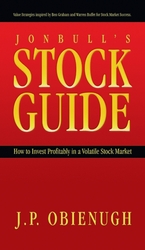 Brockton, MA (Vocus) November 10, 2010
Innumerable investors were caught on the wrong side of the stock market during the recent financial meltdown, leaving those who have yet to enter the market to wonder if real money can still be made through investments.
Jonbull's Stock Guide: How to Invest Profitably in a Volatile Stock Market (published by Trafford Publishing) by J.P. Obienugh is a guidebook for both the veteran and beginner stock investor. Readers willing to take advantage of beaten down value stocks are shown how to find great bargains for long term profit. The book contains value investment strategies, timeless tips, fundamental guidelines and a rich glossary of investment terms that will aid the investor.
Divided into seven sections, or modules, Jonbull's Stock Guide shares tips on the investor's personal finance to mixed portfolio management and various value investment strategies that continue to survive the test of time.
Jonbulls Stock Guide will appeal to investors who were hurt by the financial downturn and are determined to correct the investment mistakes of the past. Meanwhile, new age investors, out to make profit in an increasingly volatile global market, can use the book as a guide to their own investing successes.
About the Author
J.P. Obienugh holds a B.Sc. Honors in economics from Nnamdi Azikiwe University. He is currently an executive director at African Pioneer Company, a real estate firm. He made his first million at the age of 25. Obienugh currently resides in Nigeria. Jonbull's Stock Guide is his first book.
Trafford Publishing was the first company in the world to offer an "on-demand publishing service," and has led the independent publishing revolution since its establishment in 1995. For more information, visit http://www.trafford.com.
###