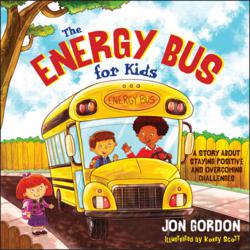 "Negativity is a part of life, but teaching children how to overcome it is one of the most important things we can do," says Gordon.
(PRWEB) August 27, 2012
First day jitters and excitement are a part of every kid's school year. They wonder – Will I like my new teacher? Who will I sit next to? Will I make new friends? Will I have any trouble with my homework or other classmates? To keep kids looking forward to the positive aspects of everyday, author Jon Gordon has created an illustrated adaptation of his bestselling fable "The Energy Bus," taking children on an enlightening and inspiring ride that will positively impact them at school and home.
The Energy Bus for Kids: A Story about Staying Positive and Overcoming Challenges (Wiley, August 2012; Hardcover and ebook; $16.95; ISBN: 978-1-118-28735-4) follows, George, a regular kid having a bad day. He woke up sleepy, skipped breakfast, nearly missed his bus and is teased by bullies at school. But when Joy, the bus driver, puts on the brakes and invites him on board, his attitude starts to change.
Joy helps George understand that he has the power to choose his attitude. She also teaches him that he has the power to keep bullies away and how to deal with them the next time he is picked on. She shows George that if he believes in himself, has a positive vision for the future, and fuels his ride with positive energy, he'll find the strength to overcome any challenge.
"The Energy Bus for Kids'" parable format shows children how to overcome negativity, bullies, and everyday challenges to be their best and share their positive energy with others. It also explores five rules for the "Ride of Your Life" including:
1. Create a positive vision
2. Fuel your ride with positive energy
3. No bullies allowed
4. Love your passengers
5. Enjoy the ride
"The earlier we teach kids how to deal with negativity, and its many forms including the school bully, the better," says Gordon. "In this story, kids learn why bullying is wrong and how their positive energy must be greater than all the negativity. Negativity is a part of life, but teaching children how to overcome it is one of the most important things we can do."
Gordon also shares tips for being a positive parent and ideas on the power of a positive educator that are inspired from his own journey to instill positivity in his own children. In addition, at the end of the story he provides complimentary resources for parents and teachers, including a discussion and activity guide for utilizing the book at home and in the classroom, on the book's website http://www.EnergyBusKids.com.
About the author
Jon Gordon's (Jacksonville, FL) bestselling books and talks have inspired readers and audiences around the world. His principles have been put to the test by numerous NFL, NBA, and college coaches and teams, Fortune 500 companies, school districts, hospitals, and nonprofits and the proof is in the countless success stories shared by his clients. He is the author of The Wall Street Journal bestseller "The Energy Bus," "The Positive Dog," "The Seed," "The No Complaining Rule," "Training Camp," "The Shark and the Goldfish," and "Soup: A Recipe to Nourish Your Team and Culture."