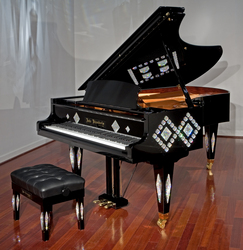 The optical quality crystal reflects light like a living work of art.
Winston Salem, NC (PRWEB) December 10, 2009
Winston-Salem, N.C. (PRWEB) December 10, 2009 -- If you're looking for a spectacular Christmas present for your special someone, consider the $1.2 million Kuhn-Bösendorfer piano, the world's most expensive new piano.
The 7'4" Kuhn-Bösendorfer piano, with its matching bench, is inset with around 100-thousand hand-cut lead crystal Kuhn Jewels arranged in an array of diamond patterns on the case, lid, legs and fallboard (key cover). The optical quality crystal reflects light like a living work of art, so the piano seems to glow from the inside -- even in subdued light. In brighter light, it simply dazzles.
A Kuhn-Bösendorfer grand piano may not fit under the average Christmas tree, but it may be the perfect choice to add unexpected drama to the grand staircase of a multi-million-dollar home. Or the stunning centerpiece for a spacious residential solarium or rotunda, mega-yacht stateroom or grand hotel lobby.
The Kuhn-Bösendorfer is a "grand collaboration" between L. Bösendorfer Klavierfabrik GmbH of Vienna, Austria and Jon Kuhn, the world's foremost cold glass sculptor. Kuhn's art is famous for its intricate design, extraordinary clarity and deep radiance. His cubes, circles and works of varied sizes and geometries are included in the permanent collections of over 40 museums and are found in the homes of discerning art collectors and glass aficionados worldwide. And now, Kuhn's brilliant piano is on display -- and available for consideration -- in Kuhn Studio's Winston-Salem, N.C. gallery.
"We knew this piano would turn out great," Kuhn says, "but nothing like this. It's vibrant, alive." And it's also a Bösendorfer. Bösendorfer pianos are handcrafted in Vienna and have been known for their pure sound and performance grade quality since the company was founded in 1828.
An unusual design feature of the Kuhn-Bösendorfer is a striking crystal fallboard logo with the purchaser's name imbedded in gold leaf, which immortalizes the owner's family by placing their name on a musical instrument that -- with good care -- will last practically forever.
"Bösendorfer has been making these glorious pianos for over 180 years, and many of them are still around," says Kuhn. "So it's not unrealistic to assume that this first Kuhn-Bösendorfer will still be making music -- and turning heads -- at the end of the 22nd century. Somebody's great-great-great-great grandchildren will be enjoying it. That's a legacy."
Kuhn-Bösendorfers are available from $1.2 to $3.5 million, including Bösendorfer's flagship 9'6" Imperial concert grand.
About Jon Kuhn:
Jon Kuhn began his artistic life thirty plus years ago with organic blown glass forms. He then progressed rapidly to more structured glass sculptures that became more deeply complex over time. Each work is one of a kind, whether a spinning cube that casts shimmering rainbows throughout the surrounding space or a crystal table that seems to glow with a soft inner light. Kuhn's glass sculptures are priced from the low thousands to more than one million dollars.
For more information about Kuhn-Bösendorfers, please contact a Kuhn affiliated art gallery listed at http://www.kuhnstudio.com or your nearest participating Bösendorfer piano dealer. Interior designer inquiries are welcome.
###