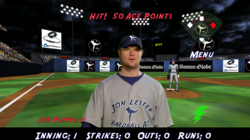 "It's neat to be able to give players an opportunity to see what it's like to face a Major League pitcher. I'm especially excited that we can reward people's hard work in the batter's box with prizes."
- Jon Lester
Boston, MA (PRWEB) July 25, 2011
The popular mobile app Jon Lester Hardball Ace is gearing up for a playoff run with new upgrades and a new version for the Android platform available now. It's the same breathtaking, up close and personal 3D gaming experience of facing Jon one on one in Hardball Park from 60 feet, 6 inches, but with many new features.
Exciting additions include redeemable Hardball Ace Points in exchange for big league prizes including Phiten products, just as Jon wears when he's on the mound. The more points gamers accumulate, the higher the discount code will be rewarded.
The fans have spoken and Face the Ace Games has worked diligently to give them the big league experience they want. In addition to now being available on the Android market, updated Hardball Ace Features include:

Faster game play – play more innings in less time
More Speed and Movement on all of Jon's pitches
Choose from one of six power-ups or combine them all to give you the advantage at the plate. Good for three consecutive outs!
• Ace Contact Zone – Increase hits in the strike zone!
• Ace Power Slugger – Increase Power at the Plate!
• Ace Heat Freeze – Decrease pitch speed!
• Ace Extra Base – Take an extra base on every hit!
• Ace Double Trouble - Earn double points on any level!
• Ace Foul is More than Fair – Turn foul balls into home runs!

Improved graphics including catcher and umpire additions
Unlock more messages from Jon for scoring runs – over fifteen messages with new messages uploaded weekly
"This whole experience working with Face the Ace Games has been awesome," said Lester. "It's neat to be able to give players an opportunity to see what it's like to face a Major League pitcher. I'm especially excited that we can reward people's hard work in the batter's box with prizes."
Face the Ace Games updated version is currently available for free download on both iTunes and the Android market. For more information please visit http://www.FacetheAceGames.com.
About Face the Ace Games
Face the Ace Games is a developer of 3D mobile games and applications with offices in Chicago and Maui, Hawaii. Visit http://www.facetheacegames.com and follow us on Twitter @facetheacegames or Like us on Facebook.
###