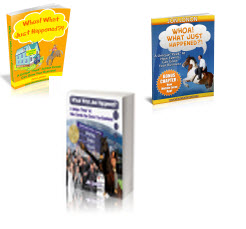 ...my excitement is really about ultimately bringing a technology-based solution to many...
McDonough, GA (PRWEB) December 20, 2012
The eBook entitled "Whoa! What Just Happened?!" is a unique "peek" at the dynamics of events because, according to the author, Chapter Three was intentionally written while at an event. Information beneficial to business owners was recorded as it was being observed. Two chapters of the eBook also include reviews by the author of public training about the significance of events by two top-tier network marketing mentors. Cast Your Vote Here
Mr. Lonon says, "My excitement is not simply about sharing high-valued complimentary information, it is really about ultimately bringing a technology-based solution to many network marketers and small business owners that have had challenges tracking and inviting guests to specific events." Mr. Lonon further clarified that, "the Share That Event Mobile App was developed because of a need to simplify through automation how events were announced to staff and potential guests." A bonus chapter in the eBook discusses the benefits, features, other platforms, and comparisons of the free and pro versions of the app.
eventShare is software that serves as a secure web service portal to private and public event data for the mobile app, but there are plans to extend software service access to third parties.
Voting is not required for access to the published material, but casting a vote for the eBook Cover guarantees the voter early notification and download upon the eBook's release. Please cast your vote today for a cover for the eBook. The same website will soon offer download links, app screen shots, and other helpful user support.
Jon Lonon is a proud husband, father, son, and minister with a technology background which includes over 25 years as a software developer, experience that has only enhanced business endeavors in Internet and Network Marketing. Visit the Network Marketing Technology Blog to learn more about Mr. Lonon.