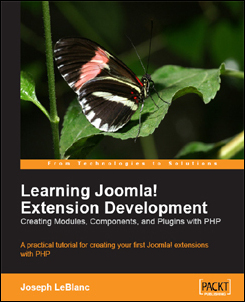 This is something we do for all open source projects that we publish books on
Birmingham, UK (PRWEB) April 24, 2007
Packt is pleased to announce a new book on Joomla!, the award winning open source Content Management System. Following the success of the best selling Building Websites with Joomla! book, Learning Joomla! Extension Development is a practical tutorial to help use PHP code to create Joomla! extensions: modules, components, and plugins.
Joomla! is a fully featured web Content Management System and was created in 2005 as a fork from the hugely popular Mambo CMS. While Joomla! is packed with features, its greatest quality is that it is extremely extensible, allowing any number of complex applications to be cleanly integrated. Shopping carts, forums, social networking profiles, job boards, and real estate listings are all examples of extensions developers have written for Joomla!.
All of these can run off one Joomla! site, while only one database, template, and core need to be maintained. When an extension to Joomla! is built, it will inherit the look and feel of the overall site. Any type of program that can be coded in PHP is a potential component waiting to be written.
Learning Joomla! Extension Development is designed for users eager to start creating extensions for Joomla!. Walk through the development of complete Joomla! components and modules with this tutorial for PHP programmers. Written for Joomla! version 1.5, this book will get users started coding their first extensions as quickly as possible, and adds the features that makes work look professional.
As an open source project, Joomla! is free to download. This means that it survives through volunteers and donations from an enthusiastic community. In a move designed to demonstrate their support and to help provide a sustainable source of revenue for the project, Packt is paying Joomla! a percentage of every book sold. "This is something we do for all open source projects that we publish books on" explains Packt marketing manager, Damian Carvill. Carvill goes on to explain that Packt's aim is to "establish publishing royalties as an essential part of the service and support business model that sustains Open Source."
Learning Joomla! Extension Development: Creating Modules, Components, and Plugins with PHP is written by professional Joomla! extensions developer Joseph L. LeBlanc and will be published by Packt in May, 2007. For more details, please visit http://www.packtpub.com/Joomla-Extensions/book
Details
Learning Joomla! Extension Development: Creating Modules, Components, and Plugins with PHP
Author: Joseph L. LeBlanc
ISBN: 1847191304, 200 pages
Published May 2007
About Packt
Packt is a modern, unique publishing company with a focus on producing cutting-edge books for communities of developers, administrators, and newbies alike.
Packt's books and publications share the experiences of fellow IT professionals in adapting and customizing today's systems, applications, and frameworks. Their solutions-based books give readers the knowledge and power to customize the software and technologies they're using to get the job done.
Packt believes in Open Source. When they sell a book written on an Open Source project, they pay a royalty directly to that project. As a result of purchasing one of their open source books, Packt will have given some of the money received to that open source project.
For more information, please visit http://www.PacktPub.com
###