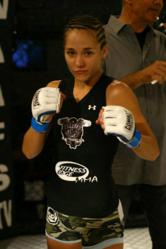 We are all extremely proud of and excited to support Jordan in her upcoming title fight. - David Perisset, CEO Exotics Racing
Las Vegas, NV (PRWEB) August 24, 2011
Exotics Racing is very proud to support Jordan McDonald as she competes for her first amateur MMA title in this week's upcoming TUFF-N-UFF: The Future Stars of MMA event at Cox Pavilion in Las Vegas, NV. When Jordan is not working on track as a member of the Exotics Racing team she trains with some of the best camps and fighters in the United States. As a rising star in the MMA world, Jordan McDonald's path to success in mixed martial arts may not have been a conventional one. The former South Carolina native is currently one of the top amateur prospects in the sport where she will face Liz McCarthy on August 26th for the Tuff-N-Uff 110-Pound Women's Championship.
McDonald believes that she has never been more ready for a fight. Having grown up in Murrells Inlet, South Carolina, Jordan learned to stick up for herself at a young age because she was picked on due to her size and admits to getting into "a couple" of recreational fights as a youth. When three-time world Muay Thai champion Maurice Travis opened a dojo in the nearby city of Myrtle Beach around the same time, McDonald's friends encouraged her to come and train. Liking the new challenge, McDonald started to train off and on in Muay Thai.
In 2009 McDonald had her first mixed martial arts fight. Though she suffered her first and only loss to date, she was immediately drawn to the sport. McDonald fought four times in 2010 and chose to make a big change in her personal and professional life by moving to Las Vegas, Nevada earlier this year, and will now fulfill a goal of competing for a prestigious Tuff-N-Uff championship. Jordan visited well over half a dozen gyms before finally settling on the Drysdale Jiu-Jitsu academy. There, she trains in Brazilian jiu-jitsu under decorated world champion black belt Robert Drysdale.
McDonald's goal is to win the Tuff-N-Uff 110-pound title and defend it before joining the pro ranks. Jordan is expecting a tough fight and is keeping her training balanced. Rather than focusing on new techniques, she is making small changes to improve upon her existing skillset. Tuff-N-Uff is known internationally as the premier amateur MMA fight league that prepares potential stars to become professional fighters. Some of the most renowned mixed martial artists around the globe have come through TUFF-N-UFF and have become highly recognized.
About Exotics Racing
Originally founded in Europe in 2004, Exotics Racing has been operating in Las Vegas, NV since 2009. Accessible to all, the racing school offers individuals the opportunity to drive today's most amazing supercars with professional racing instruction on a real race track. The program integrates classroom education, familiarization laps and real-time right seat instruction into one comprehensive, safe and exciting driving experience. Details for the racing school can be found on http://www.exoticsracing.com or by calling (702) 405-7223.
###