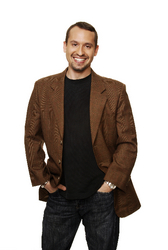 Las Vegas, NV (Vocus) April 25, 2010
Jordan Wirsz, 27-year-old retired multi-millionaire, is conducting a Las Vegas business seminar to help his home town increase revenues in small to medium sized businesses as his way of giving back to the community and helping the Las Vegas economy begin to grow again.
Jordan is a well known international speaker, three-time best-selling author, and personal and business development philosopher, amongst being ranked the #3 life and business coach in the world, and has coached multi-billionaires, Hollywood celebrities, and Fortune 500 CEOs.
Jordan will be hosting a Business Power Strategies event in Las Vegas at Santa Fe Station, 4949 N Rancho Dr, Las Vegas on April 29th beginning at 7:30 a.m. with registration, and continuing for the remainder of the entire day. Jordan is selling these tickets AT COST for Nevada businesses and Nevada residents.
To view a summary of Wirsz's story and mission, go to http://www.becomeincredible.com.
If you are interested in booking Jordan Wirsz on your radio or television show, call Rachael Campbell, Director of Public Relations at rachael(at)jordanwirsz(dot)com or call 702-465-4861. Jordan's Youtube and Google information is astounding - please enjoy!
Rachael Campbell
Director of Public Relations
702-465-4861
http://www.JordanWirsz.com
http://www.BecomeIncredible.com
# # #