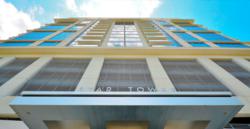 My buyers, want more than four walls; they're prepared to invest in a lifestyle. Most desire short work commutes, as well as having top restaurants, shopping, entertainment and nightlife at their fingertips.
Orlando, FL (PRWEB) February 12, 2013
José "Olé" Mussenden of Olde Town Brokers and his team The Olé Group was named as the exclusive realtor for the newly enhanced Star Tower condominiums in downtown Orlando. Mussenden was selected to lead sales efforts of the remaining units by Michigan-based Alidade Capital, the firm that has invested millions of dollars into the property to make it one of the most exclusive downtown Orlando luxury high rise condos available.
Originally built in 2007, the Star Tower, located at 260 S. Osceola Avenue, is positioned just on the outskirts of the city along tree-lined, brick-paved streets. Only a quick walk away is one of the liveliest urban scenes in the South East, complete with top restaurants, exclusive nightclubs and world-class entertainment venues. And when it's time to wind down or get a little exercise, Lake Eola offers tranquil paths for walking, running and biking. Easy access to Interstate 4 also provides fast access to the rest of the city and airports.
Matt Roslin, director of Alidade Capital, said, "Star Tower's enhancements truly makes this an unparalleled property in the region. The clean, sleek décor in the public areas perfectly fuses the glamor of old Hollywood with the edginess of rock legends—clearly designed with sophisticated buyers in mind."
Building amenities include an enhanced terrace pool, expansive gathering area for resident events, and a state-of-the-art 24x7 exercise facility. Modeled after a 5-star hotel, the property also has an on-site concierge service and a 24-hour doorman.
Mussenden said, "My buyers, want more than four walls; they're prepared to invest in a lifestyle. Most desire short work commutes, as well as having top restaurants, shopping, entertainment and nightlife at their fingertips. The Star Tower also appeals to my clients because upgrades are the standard."
All Star Tower units include German cabinetry, Sub-Zero refrigerator/freezers, stainless steel Wolf appliances, and laundry rooms with full-size washers and dryers. Most units have solid wood flooring, and residents can opt for custom closets. The building also has some of the largest Orlando condos downtown, from 2,000-squart-foot corner units with expansive views to two-story "town homes" with soaring ceilings. Some even feature dual master bedrooms and half baths, more characteristic of single-family homes.
Michele Fichter said, "After moving to Orlando two years ago for a new job, I began my home search downtown and was so discouraged…until the new Star Tower units opened up. As soon as I realized they offered the same caliber of high-end appliances and materials I selected for my custom Naples home, I signed the contract on the spot. In fact, I was the very first buyer after the new investors took over. I was happy with my finance rate and impressed by all the help José provided every step of the way."
This is a very sophisticated building; even the hallways are beautiful, she said. "My neighbors are so friendly and respectful. Every time I walk into my building, I think about how happy I am to be home."
With only 100 units in the building, Mussenden stressed that the Star Tower is a great property for those who enjoy socializing, but also value privacy. In fact, each floor only has eight or 10 units, which significantly minimizes hallway noise.
Resident Chuck Harmon said he moved into the Star Tower to see if he liked downtown Orlando living.
"I moved from a single-family home last March and haven't looked back," he said. My new home doesn't feel like a cramped condo. It's spacious and offers some of the best views of the city. There's also a very unique group of residents in this building, which makes for a friendly, safe, peaceful atmosphere."
Mussenden said, "We believe the positive momentum in our real estate market makes it a good time to buy downtown Orlando condos. In fact, many downtown Orlando condos are selling below the actual price of construction. While that's good news for buyers, time is of the essence. There's a limited supply of luxury units, so those who have been standing on the sidelines waiting for things to pick up are now entering the market in a big way."
For more information about the Star Tower or to schedule a tour of downtown Orlando luxury condos for sale, contact Mussenden at 407-466-6176 or JoseOleHomes(at)gmail(dot)com.
About José Olé Homes
José Olé Homes represents some of the most exclusive downtown Orlando luxury condos, as well as homes in Winter Park, Windermere and surrounding metropolitan areas. Beginning his career as a downtown promoter in New York City, José Olé Mussenden translated his passion for urban life into an Orlando-based company focused solely on helping clients achieve their luxury lifestyles. A licensed real estate agent and mortgage broker, Mussenden works closely with the Olde Town Brokers (OTB) team to provide a turnkey solution for buyers and sellers. He was named a Top 10 OTB Producer in 2010, and has exclusive listings in all Orlando high-rise complexes. For information or to contact Mussenden, visit http://www.JoseOleHomes.com.