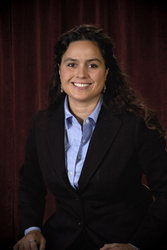 I learned so much working side-by-side with my father
Houston, TX (Vocus) March 17, 2010
JOSEPH CHRIS PARTNERS (JCP), a specialized management consulting and executive search firm that focuses on the commercial and residential development/construction industry recently announced that its CEO/President Veronica Ramirez purchased the firm.
Ramirez joined JOSEPH CHRIS PARTNERS in 1998. She was named CEO/President in March 2008 when Joe Ramirez, founder and Chairman and Victoria Ramirez, CFO, announced their retirement.
Ramirez, originally developed as a producer, has been instrumental in the growth of JOSEPH CHRIS PARTNERS over the past 12 years having served the firm in various capacities, including executive vice president and president. Her expertise in the industry has established her as one of the most sought after liaisons for building strategic alliances in the consulting field, and her leadership of the company during the market challenges of the past several years has positioned JCP very well for the pending economic recovery.
"I learned so much working side-by-side with my father," said Ramirez. "His example of excellence helped form my thinking and inspired me to push harder, yet smarter for increasingly lofty goals. As we continue to move forward, I will continue the legacy that JOSEPH CHRIS PARTNERS has established in the marketplace, and our firm will serve its clients with the same honesty and integrity that has epitomized the company since its founding in 1977."
Recently, Ramirez has been the leading force in the firm's foray into better business practices through offering new services and improving its internal integrated database system. The firm also recently launched a social media campaign. In addition to entering the world of LinkedIn, Facebook and Twitter, JOSEPH CHRIS PARTNERS will launch their new Web site in April and blog in early May.
ABOUT JOSEPH CHRIS PARTNERS:
JOSEPH CHRIS PARTNERS is the parent company to JCR Executive Search International and Real Estate Grad International. They are a leading executive search firm serving the commercial and residential development and construction, finance, investment, restoration, transit/transportation, civil infrastructure, and medical/healthcare industries both nationally and internationally. Since 1977, JCP has conducted over 5,000 search assignments for clients in over 46 states and in many countries worldwide. In addition, they have developed a comprehensive professional and resource network in every sector of their targeted industries. JOSEPH CHRIS PARTNERS' team of tenured professionals works closely with each client to understand their needs and embrace their company culture. This partnership enables JCP to identify and recruit leaders, managers and high achievers that will meet or exceed their clients' expectations and perform in concert with their client's vision and long-term business objectives. For more information, visit, http://www.josephchris.com.
###