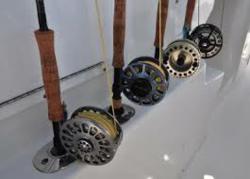 New York, NY (PRWEB) April 03, 2013
There aren't many Fly Fishing lovers on the internet who are not aware of Joseph Sorbara. A renowned expert in the game, the icon has accumulated years of precious experience in the field and now writes it down, just to help his fellow fishermen. His articles have been helping fishermen immensely for the past couple of months, which is why thousands of clicks are registered. On a lot of demand by his readers, Joseph Sorbara started his "Inside Joseph Sorbara's District" series which aims at explaining everything that a true fly fisherman has to go through. In the latest addition to the series, the writer has talked about the various different types of fly fishing rods that exist and which one should people buy. The articles are featured on his website.
The writer starts his statement by explaining the difference between regular fishing and fly fishing. Whereas in conventional fishing, one has to use a more lightweight rod with a heavy hook, a much lighter hook is used in fly fishing. In regular fishing, fishermen often tend to put their rods down to wait the fish out, fly fishing requires more exertion. The rod is not put down and anglers might even have to hold on for a full day. So whenever people go shopping for a rod, they are advised by the writer to keep certain aspects in mind.
Joseph Sorbara explains that almost all of the rods are composed of a similar material, which is the graphite composite. Now that a certain build is chosen, the next step is to scrutinize its weight. The weight of the rod has to be selected in accordance with the fish that you're aiming to catch. Also, the line should match the nature of the fish, which is why you should get a decent reel too.
To read the full details on what to look for in a fly fishing rod, click: http://josephsorbara.co/inside-joseph-sorbaras-district-of-which-fly-fishing-rod-should-you-buy/.
The details can also be read on Joseph Sorbara's Facebook page: http://www.facebook.com/joseph.sorbara.1
Watch the insightful video: http://youtu.be/cFvCyhpZkek
About Joseph Sorbara:
Joseph Sorbara is a renowned Fly Fishing Expert, mostly known for the online Fly Fishermen series that he publishes. With years of accumulated experience in the field, the writer now serves his fellow fishermen with effective and efficient fly fishing techniques. His blogs and writings are read by thousands of skilled fishermen from across the globe.
Contact:
Joseph Sobara
(631) 662-2123
JosephSorbara.co