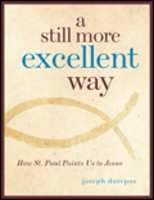 a still more excellent way.
Chicago (Vocus) February 11, 2009
In 1 Corinthians 12:31, St. Paul exhorts the early Christians in Corinth to follow "a still more excellent way." The "way" he is speaking of is love--genuine, selfless love. With unwavering devotion, Paul's post conversion life was focused on one goal: to help people see Jesus--crucified, risen, and reigning--as the ultimate meaning and perfect example of this love.
Released to coincide with the Catholic Church's Year of St. Paul (June 29, 2008, through June 29, 2009), A Still More Excellent Way by Joseph Durepos encourages and inspires readers through fifty-two brief selections from Paul's writings. Each Scripture selection is followed by a story or meditation that supports the verses. And although the apostle Paul evangelized in the first-century Roman world, author Joseph Durepos uses plenty of twenty-first-century cultural references to make the material highly relevant for people today.
Equally appropriate for personal reflection or small group study, A Still More Excellent Way is an excellent opportunity for anyone to draw closer to Jesus through the unabashedly Christ-centered message of St. Paul.
Joseph Durepos will be traveling throughout the United States giving a multimedia presentation on St. Paul. He has edited many books, including the best sellers Go in Peace and No Greater Love. He is the executive editor of acquisitions at Loyola Press.
To interview Joseph Durepos or for more information on his presentation, please contact Michelle Halm.
A Still More Excellent Way: How St. Paul Points Us to Jesus
by Joseph Durepos
Loyola Press $10.95 paperback
978-0-8294-2758-5
Contact:
Michelle Halm
Publicity & Communications Manager
773-529-3789
###