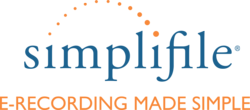 We're excited to progress with this technology and have already seen the cost and time-saving benefits that come with e-recording.
Josephine County, Ore. (PRWEB) January 22, 2013
Josephine County in Oregon is now accepting land record documents for e-recording through Simplifile, the nation's largest electronic recording (e-recording) service provider. Organizations such as title companies, banks, lien filers and attorneys will now have the ability to submit land documents to Josephine County electronically through Simplifile's online service, accelerating the entire recording process.
Traditionally, paper document recording requires mail costs, courier fees, check-writing, and sometimes week-long waiting periods for a returned and recorded documents from the county. With e-recording, submitters can quickly scan or prepare, upload and submit their documents to the county via the Internet and have them recorded within minutes.
"E-Recording enables us to automate our document recording process and Simplifile provides an efficient, safe service for our submitters," said Josephine County Clerk and Recorder, Art Harvey. "We're excited to progress with this technology and have already seen the cost and time-saving benefits that come with e-recording."
Simplifile has provided its e-recording services to counties ranging from small to large for more than a decade, but has seen significantly more counties pursue and adopt e-recording in recent years.
"We're excited to add Josephine County to Simplifile's e-recording network," said Paul Clifford, president of Simplifile. "Our service is a simple, yet powerful tool in helping to streamline the recording process for counties all over the nation. We are proud of that and proud of the direction that we, along with our customers, are headed."
Additional Oregon counties that offer e-recording through Simplifile include Polk, Multnomah, Clackamas and Washington counties.
About Simplifile
Simplifile is the nation's largest and fastest-growing e-recording service. Simplifile supports thousands of e-recording customers including title companies, banks, attorneys, lien filers, and other organizations that create and submit documents to more than 815 local, state, and federal government jurisdictions. Simplifile's electronic document services save time and the expense associated with traditional document submission methods. Simplifile is focused on building the industry's largest and easiest-to-use e-recording service for organizations of all shapes and sizes. More information about Simplifile may be found at simplifile.com or by calling 800-460-5657.
"Simplifile" is a registered service mark of Simplifile, LC.