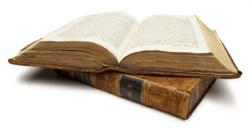 Bound book scanning can be a city official or genealogist's dream.
Hartford, CT (PRWEB) July 27, 2011
Bound Book Scanning's name is direct and simple. The process to have a bound book scanned is in fact fairly simple, but the potential impact of this is about as mind-boggling as calculating googolplex. Bound Book Scanning revolutionizes document preservation and sharing.
Joseph Merritt Company, headquartered in Hartford, CT, is one of the innovative owners of a book digitizing system. Digitization of bound books provides an entirely new generation of users with access to historic documents that can now be electronically archived, made searchable on the Web, and made available for print-on-demand or as e-books. The scanner automates the process of turning pages while assuring preservation of the materials. It also ensures consistent page turning while maintaining or enhancing the quality of the photographs and illustrations.
There are hundreds of thousands of bound books or documents that have never been shared with the general public because they are rare or fragile. Think of a sketch pad by Monet, a journal hand-written by Yeats, laboratory notebooks written by Alexander Fleming or a photo-album documenting a family's history for several generations- all one-of-a-kind bound books. The only way to accurately duplicate them in the past was to cut the spine or dissect the pages. With the inventive technology of Bound Book Scanning these books can now be duplicated without harming the original.
Ed Perry, CEO of Joseph Merritt Company, spoke about watching the scanner work. "It really is quite impressive. When you watch the system turning the pages it grabs your attention. I have seen people become entranced by watching it. The system is well thought out- it has the ability to scan loose items and torn pages too." He also notes that people are encouraged to arrange a tour of his facility to see the system.
Bound book scanning can be a city official or genealogist's dream. City and town records are kept in bound books: birth records, deeds, titles, etc. These vital records maintain town histories and tell the townspeople's stories. Many are kept in storage and are difficult to find. They are excellent resources that can now effectively be digitized, archived and retrieved. A wealth of knowledge is waiting to be rediscovered.
To learn more, visit http://www.merrittgraphics.com/services/scanning/bookscan.php or contact Joseph Merritt and Company 800.344.4477.
###