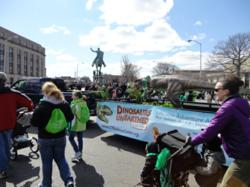 The response was very enthusiastic. The parade goers were cheering as we went by.
Hartford, CT (PRWEB) March 21, 2012
Joseph Merritt Company, headquartered in Hartford, CT since 1908, prints graphics for businesses nationwide every day. Merritt has produced and installed banners depicting everything from Pepsi® cans to reproductions of famous pieces of art for nationally renowned institutions. Recently Merritt had the privilege of printing banners for an organization a little closer to home, showcasing excited faces and dinosaurs for the Connecticut Science Center.
Since opening in downtown Hartford in 2009, the Connecticut Science Center has served nearly 850,000 people including over 150,000 school children on field trips. Part of its mission is to inspire lifelong learning through hands-on, interactive and innovative experiences that explore our changing world through science. For Hartford's St. Patrick's Day parade, the CT Science Center's float demonstrated a commitment to this purpose. The float included a robotic dinosaur that moved and roared at the crowd and sported informational banners for the Science Center and upcoming exhibit, Dinosaurs Unearthed®. Hartford's St. Patrick's Day parade is a huge event for the city and state. This year the parade drew in over 75,000 people.
The inspiration for the inventive float was indeed to stand by the museum's mission to attract and interact with Connecticut residents. Tracy Shirer, Director of Marketing & Public Relations for the CT Science Center, explained, "We wanted to show the fun and dynamic nature of the Science Center and promote our upcoming exhibit." She added, "The response was very enthusiastic. The parade goers were cheering as we went by."
On choosing Joseph Merritt Company as the vendor for the banners, Shirer related, "We are very pleased with the quality; everything looked fantastic." She went on to mention that they will repurpose the banners for the Science Center's upcoming exhibit. For guidance on what to look for in a company when sourcing a print supplier, Shirer advised "Quality, delivery and pricing are all important factors."
The parade float used the printed banners as a method to enhance the museum's brand by combining a picture of their distinctive building and fun facts about the center. "Our venue is approaching its third birthday, and we want people to know they don't have to go to Boston or New York to experience a state of the art Science and Technology museum. We have one right here in Connecticut."
Banners are a popular form of advertising and marketing. The CT Science Center's objective to repurpose the banners from the parade float to the museum building demonstrates the versatility of the medium. One significant benefit of banner advertising is the limitless potential for design and style. Banners can be fun and quirky or distinguished and stately – and everything in between. Banners can be installed almost anywhere with little to no marking on surfaces they are mounted to, whether it's a wall, storefront, pole or parade float.
For more information on the Connecticut Science Center and the upcoming exhibit Dinosaurs Unearthed®, please visit http://www.ctsciencecenter.org.
For more information on banner marketing or other printing services available at Joseph Merritt Company, please visit http://www.merrittgraphics.com.