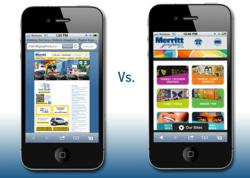 ...good business dictates how we work to maintain our audience.
Hartford, CT (PRWEB) April 11, 2012
Having a website optimized for mobile viewing may seem like an impractical investment for those who have a detailed, user-friendly website. The idea that a pared down website is good for business may be counter-intuitive. Mobile sites are typically slimmed down versions of the full website. They offer less information than the full site, often with fewer pages and products. So why would a company want to create a mobile site? Recent statistics show that it may actually be a lifeline for small businesses. Joseph Merritt Company headquartered in Hartford, Connecticut is one company that just made the advance.
Improvements in technology, particularly in smart phones, have rapidly increased the number of people browsing the internet via mobile devices. Internet analysts at Morgan Stanley predict that smart phone and mobile browsers will surpass desktop browsers in 2014. According to Microsoft Tag, more than 1.08 billion smart phones are currently in use. Those 1.08 billion users will not have a user friendly experience on a detailed website developed for a PC and in most cases will not spend enough time on the site to obtain any information of value.
Mobile Websites are an interactive experience with a mobile browsing device. With a tap of a finger a user can place a call, send an email, watch a movie, scroll through images in a slideshow, or connect to other resources such as social media. The experience on a site optimized for the web versus one that is not could be the difference between making a sale and losing touch with consumers. That is why Joseph Merritt Company decided to optimize http://www.merrittgraphics.com.
Joseph Merritt Company is made up of five divisions. Three of these divisions are slated for optimization and conversion to mobile sites. Due to traffic patterns, it made the most sense to begin the optimization process with the graphics division and follow with the scanning division. Ed Perry, President and CEO, explains, "Since we are just getting our feet wet with this, we decided to start with the graphics page. It made the most sense to promote this group since it is a visual group." Mobile Merritt includes bold colors and user-controlled scrolling image galleries, as well as tap-to-call and tap-to-email functionality. Merritt plans to launch a mobile site for their scanning and document technology groups later this quarter.
Merritt registered numbers to support the need for a mobile optimized website. As part of their 2011 media campaign, they advertised on Pandora radio. The analytics from this campaign showed that users who clicked Merritt's ad using a desktop browser stayed on the site longer and had more page views than mobile users. In fact, most mobile users left the page instantly. "We had been discussing a mobile site for a while. It wasn't until the analytics came through that we knew the time to move forward was now," Perry explains. He continues, "We realized that our website is a wealth of information that was not easily accessible for mobile users, and good business dictates we work to maintain our audience."
Merritt consulted many professionals to develop the best approach for their mobile site. The consensus recommendations included easy to tap buttons, easy to read fonts, clear navigation, and a focus on the visual aspects. Writing should be concise and clear. Heavy text should be avoided as it bogs down pages. Links should be included to any external sites such as Facebook and Twitter. No need exists to recreate your entire website. Focus on the key information, and encourage people to learn more.
To learn more about Joseph Merritt Company please visit http://www.merrittgraphics.com