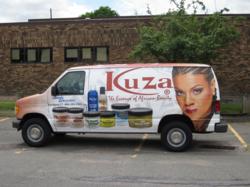 It was a no brainer for us to advertise on our trucks and vans. Our trucks are rolling billboards for our company and consumer brand.
Hartford, CT (PRWEB) October 05, 2011
Visibility, exposure, and reaching the right audience are fundamental factors in advertising success. Placement matters. One viable method to advertise and market a company to a targeted audience is through Vehicle Graphics. A vehicle wrapped with a specific brand, product, or message can be driven in preset locations as mobile advertising. Beauty Enterprises, Inc., headquartered in Hartford, Connecticut has found measurable success using Vehicle Graphics.
Founded in 1967, Beauty Enterprises, Inc. is an international wholesale distributor of ethnic beauty products. The company recently opened an office in Dakar, Senegal, Africa, adding to the existing locations in Connecticut, Alabama, California, Michigan and New York. In addition to an extensive product line, Beauty Enterprises is the exclusive distributor of Kuza® beauty products. In a highly competitive field such as beauty products it takes more than having great products to succeed. Creative marketing and brand development are essential. Beauty Enterprises chose Vehicle Graphics on company vehicles to make an impact.
Detailing many benefits of the decision to use Vehicle Graphics, VP of Beauty Enterprises, Inc., Rocky Piccirillo, states, "It was a no brainer for us to advertise on our trucks and vans. Our trucks are rolling billboards for our company and consumer brand." He explains, "Companies we distribute were happy to pay a small fee for the advertising exposure our trucks gave their products. The fees paid for the decorating, and the decorating brought more attention to the truck and our name--which was the goal. It was a win-win."
The company began advertising on their vehicles about 35 years ago by hand painting the company name and address on the side panels of the trucks. As they grew, they switched to having images of the products they distributed airbrushed onto their vehicles. This was so successful that Beauty Enterprises, Inc. opted to switch to advertising their consumer brand, Kuza®. They also made the switch from airbrush to digital printing using vehicle wraps. Piccirillo shares, "wrapping proved to be a wonderful alternative because it is less expensive, durable, and quickly applied." He also notes another benefit of using digital printing is the finished product looks exactly like the artwork supplied.
Vehicle graphics sound like a great idea, but how can you measure the return on investment? Beauty Enterprises, Inc addressed this problem by releasing vans to one area. Piccirillo explains, "Since our corporate name is very well known in our industry, we changed our advertising focus to our brand which is harder to measure. However, New York is where we started wrapping with Kuza® graphics … and New York is where we have the strongest market share. I don't think it's a coincidence."
The company feels so strongly about this marketing approach that they have started sending wrapped vans to their best customers in Africa. Despite the financial investment to receive a van, Beauty Enterprises, Inc now has more buyers in Africa than available vans. "We started the program last year and now have six decorated vans in Africa, so yes. It's absolutely increased our business."
When asked how the company found a vendor to do the vehicle wraps, Piccirillo admits it was trial and error in the beginning. "We had to get away from painting because of the cost and time it took to compete. We tried several different companies and Merritt was our hands down choice."
Headquartered in Hartford, CT, Joseph Merritt Company has been printing and installing vehicle graphics for many years. Merritt uses 3M premium wrap medias, primarily, 3M 180c V3 vinyl with 3M 8518 hi gloss over lamination. The graphics are printed on an HP/Scitex XL 1500 printer at 600 dpi using industrial grade Sericol Ink. These medias and inks are chosen by Merritt for the extreme durability and print quality that is second to none. This combination produces images that show amazing detail and color.
Piccirillo advises prudence when sourcing a company to do vehicle wraps. "Look for a wrapped vehicle that's been on the road for several years, and look it over for peeling or fading. If it looks good, ask who did the job … or save your time and call Merritt."
For more information on Beauty Enterprises, Inc. please visit http://www.beautyenterprisesinc.com
For more information on Joseph Merritt Company please visit http://www.merrittgraphics.com
###