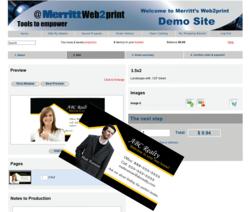 The new web2print portals offer the same conveniences as before but add more opportunities for our customers.
Hartford, CT (PRWEB) February 01, 2012
Web to Print is nothing new to the print industry. Many Print Service Providers (PSPs) jumped on the bandwagon of the initial revolution that came with the boom of the Internet. Web to Print (or web2print) enabled customers to save materials as repeat print collateral for future ordering via the Internet. This practice successfully cut administration costs and saved time for both the customer and the PSP.
Joseph Merritt Company headquartered in Hartford, CT, has offered a successful Web to Print option for its customers for several years. As of February 1, 2012, the company is pleased to announce that they are launching an improved program: @MerrittWeb2Print. The advancement of this new Web to Print program offers the same ease of use as the previous service, with a boost. In addition to simply reordering previous print jobs, customers can now create and edit print collateral on their own branded portal.
"There was nothing wrong with our other Web to Print Service, but the value added services offered by our new program and ease of use for our clients made the decision to upgrade simple," said Ed Perry, President and CEO of Joseph Merritt Company. "The new web2print portals offer the same conveniences as before but add more opportunities for our customers."
@MerrittWeb2print is a robust service. It can be used by customers to reorder static documents and can also be used to upload new printing jobs. Customers can have custom templates with variable fields built. The templates are a great way to create new marketing materials without straying from established rules for branding.
Maintaining existing branding and marketing collateral with templates saves time and expense for businesses with built in adaptability for ongoing and timely promotions. Industries that will benefit from these new portals are insurance, banking, automotive dealerships, Real Estate, and funeral homes. Any company that has repeat marketing collateral with variable information will find @MerrittWeb2print an advantageous asset to their Web to Print needs.
For further details, visit http://www.merrittgraphics.com/services/print-management/web.php or contact Joseph Merritt and Company 800.344.4477.
###