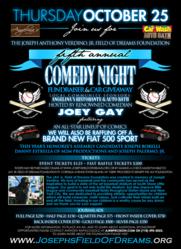 The foundation is truly grateful to Casale Jewelers for their contribution to the event.
Staten Island, NY (PRWEB) September 30, 2012
On October 25th The Joseph Anthony Verdino, Jr. Field of Dreams Foundation will host its Fifth Annual Comedy Night Fundraiser at The Hilton Garden Inn. The evening will feature comedic talent from Showtime and HBO, as well as delicious cuisine, and a FIAT 500 Sport Car raffle in conjunction with local community sponsors Angelina's Restaurant and Auto Bath Car Wash.
"We are looking forward to another successful event this year," said Robin Verdino, founder of the non-for-profit. "The foundation is especially honored to have received such generous support from local businesses, such as Angelina's Restaurant and Auto Bath, and we are also truly grateful to Cory Schifter at Casale Jewelers for their contribution to the evening."
In early September, Casale Jewelers was one of five small businesses selected nationally as the winner of the American Express and Facebook "Big Break for Small Business" contest. As a result, it was the recipient of $25,000 as well as a private marketing and strategy session with Facebook and American Express.
"We are truly privileged to have won the contest, and couldn't have done it without the support of the Staten Island community," said Cory Schifter, owner of Casale Jewelers. "We pride ourselves on giving back to local charities, and when we were approached by Anthony Rapacciuolo of PRcision about the Field of Dreams Foundation, we saw it as a perfect opportunity to not only contribute monetarily to the cause, but also leverage Facebook to raise awareness of the foundation."
The JAV Jr. Field of Dreams Foundation was created in memory of Joseph Anthony Verdino, Jr. His love of baseball and the community has served as the inspiration to build a state of the art baseball stadium at South Shore Little League. The organization's goal is to provide athletic opportunities for children which will build character, instill values, and cultivate their minds both on and off the field. At this year's event, the foundation will honor Assembly Candidate Joseph Borelli, Danny Estrella of M2M Productions, and Joseph Palermo Jr.
Casale Jewelers will donate $1 to the foundation for every person that "Likes" their Facebook page up to $1,000 between now and the event on October 25th. Please visit http://www.Facebook.com/JosephsFieldOfDreams to show your support.
Additionally, tickets the event on October 25th, as well as raffle tickets for the FIAT 500 sport, and sponsorship opportunities are available online by visiting http://www.JosephsFieldOfDreams.org