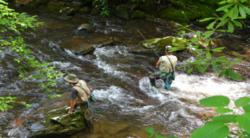 If you are a lover of fly fishing, there are numerous places for you in the country!
New York, NY (PRWEB) February 15, 2013
Joseph Sobara, the renowned fly fishing expert on the internet, after publishing the historical perspective of fly fishing on his blog, unveiled the best spots for fishermen to try their luck. In a detailed article, the author goes on to state the exact locations along with the techniques that are essential for a heavy catch. Alongside this, Joseph had discussed the prevalence of the hobby along with all the intricacies that are essential to improve one's game.
The article by Joseph Sorbara starts off by discussing the prevalence and the popularity of the activity. He then goes on to state the best fly fishing spots in the country, in a detailed, comprehensive litany. He starts off with the Colorado River's Lee ferry, in Arizona. The spot here remains active for the whole year. In the fresh cold water, heaps of fish await capture.
The next spot on the list is Montauk Point, New York. The spectacularly beautiful shoreline, this place is home to a large number of various different species of fish. Not only is this spot prolific for fishing, it is an exquisite sight-seeing location.
Next up, the writer talks about the Sitka Alaska. This place serves as a resting area for fish that eventually head on towards Columbia and Washington. Joseph Sorbara claims that this spot has the best amount of fish across the country.
The writer then goes on to discuss numerous other spots including areas in Penn, Maryland, Wisconsin, Padre Island and Nebraska. The aforementioned litany merely touches the detail that is reported by iNewsBucket.com to be mentioned in the blog post.
"If you are a lover of fly fishing, there are numerous places for you in the country!" mentions Joseph Sorbara in the blog post. The article can be of immense help to anyone that wishes to spend some quality time fly-fishing and is a noble step by the author, Joseph Sorbara.
To read the detailed blog post, visit http://josephsorbara.co/best-fly-fishing-spots-in-united-states/
Contact:
Joseph Sobara
(631) 662-2123
JosephSorbara.co