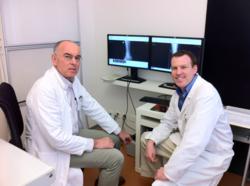 Royal Palm Beach, Fla. (PRWEB) January 30, 2013
Dr. Josh Daly, a doctor of podiatric medicine (DPM), has attended schools and trained throughout the United States to become the podiatrist that he is today. He was the President of his class while attending New York College of Podiatric Medicine. He won first place twice in the Florida Podiatric Medical Association's annual Science & Management Symposium (SAM). In addition to his current training and accolades, his most recent experience, the exclusive AO Trauma fellowship in Switzerland, will bolster the expertise of South Florida Foot & Ankle Centers through newly acquired skills and knowledge in the podiatric field.
The AO (Artbeitsgemeinschaft fur Osteosynthesefragen) Trauma Fellowship is a trauma surgery training program that lasts 4 – 8 weeks. General and orthopedic surgeons around the world who are under the age of 40 apply for this fellowship. Only eight candidates from the podiatric field of medicine are selected every year to attend this prestigious program. Attending the esteemed AO fellowship had been a long-awaited experience for Daly, who took his first AO course in 2008 to prepare for the fellowship. Facing a long application process, Daly finally had his chance at the end of November 2012, taking a 10-hour flight to Milan, Italy, before boarding a train to Lugano, Switzerland.
During his stay in Lugano, Daly trained for a month with PD Dr. Kaj Klaue, a world-renowned orthopedic surgeon, in Clinica Luganese. There, he learned various surgery methods—old and new. He also assisted in many surgical procedures of the lower extremities, including lapidus bunionectomies, hammertoes correction, metatarsal osteotomies, haglunds, ankle fracture, hip fracture, hip replacement, proximal tibial osteotomy, Z-plasty, radial fracture, soft tissue mass removal, fusions, ankle stabilizations, cheilectomies, neurectomies, and tendon transfers. Daly plans to bring his newfound skills and knowledge back home to his practice in South Florida.
In addition to surgical techniques, Daly also learned important lessons that come with traveling to foreign countries. "While traveling to another country," said Daly, "one must learn the native language in order to avoid awkward moments." Most locals spoke Italian; only a handful spoke English. When Daly was ordering food at the clinic's cafeteria, he resorted to pointing to what food he wanted while using only "Si," "No," and "Grazie" to respond to the cafeteria employees' questions.
Dr. Daly is a podiatrist at South Florida Foot & Ankle Centers, with podiatry centers located in Royal Palm Beach, Palm Beach Gardens, Lake Worth and Belle Glade, FL. At South Florida Foot & Ankle Centers, he works with Dr. Jonathan Cutler, DPM, and Dr. Brett Fried, DPM, to provide foot and ankle treatment for patients in Palm Beach County and South Florida.