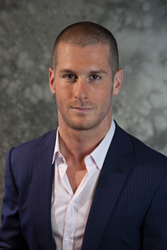 I value my clients because without them my business would serve no purpose
Germantown, MD (PRWEB) August 19, 2015
"Throughout my daily business I reinforce the Ritz Carlton credo, 'We are ladies and gentlemen serving ladies and gentlemen.' Real estate is not only sales but more importantly a customer service and relationship industry. Whether you're a first-time homebuyer/seller or an experienced buyer/seller, I value my clients because without them my business would serve no purpose and I am hyper aware that everyone has choices for whom they choose to work with. My mission is to give each client genuine care by anticipating and listening to their needs and wants, creating trust, thoroughly guiding them through the homebuying or selling process, being available to them and continuing to follow up after settlement," says Josh.
Five Star Professional is pleased to announce Josh Ross, RE/MAX PROS, has been recognized as one of Washington, D.C.'s Five Star Real Estate Agents for 2015.
Five Star Professional partnered with Washington Post Magazine to recognize a select group of Washington, D.C.-area real estate agents who provide quality services to their clients. Less than 7 percent of real estate agents in the area were selected. Josh Ross is featured, along with other award winners, in a special section of the September 20, 2015 issue.
"This award is a celebration of 10-plus years in the industry, the countless hours of negotiations, the long days and nights of talking to and showing properties to clients, constantly perfecting my business, learning to adapt and be creative, and generating and maintaining relationships with clients, lenders and others involved throughout the process. I want to say thank you, to my clients, for your continued trust in me," says Josh Ross of RE/MAX PROS.
The Five Star Real Estate Agent award program is the largest and most widely published real estate agent award program in North America. Agents are measured using an objective, in-depth research methodology with significant focus on customer feedback and overall satisfaction.
"I am very active in the community serving as a board member for a local humanitarian organization, SoWhatElse, as well as a board member for MAFCU's Millennial board helping the credit union understand the needs of millennials and how to better serve them," says Josh.
"Our list of local Five Star Real Estate Agents can be an invaluable resource for anyone looking to buy or sell a home. These agents are exceptional in their field and their commitment to client satisfaction; and are right in your backyard," says Dan Zdon, CEO, Five Star Professional.
Josh Ross's Five Star award profile can be viewed here.
About the research process:
Five Star Professional has been conducting market research to define and promote professional excellence in service professionals since 2003. Its Five Star Real Estate Agent award program is the largest and most widely published real estate agent award program in North America.
Real estate agents are awarded based on an in-depth research process. Thousands of consumers are contacted to rate their real estate agent on 10 evaluative criteria including customer service, market knowledge, negotiation, closing preparation and overall satisfaction. Beyond a qualifying client evaluation score, real estate agents are evaluated on objective criteria such as experience, production levels and disciplinary and complaint history.