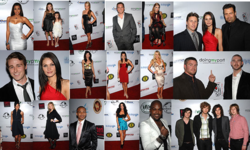 So many beautiful faces came out to support us in LA with our launch of DMP.
Los Angeles, CA (PRWEB) February 06, 2012
2012 seems to be the year of the Non-Profit. With such big names and brands launching around the globe supporting good causes we are seeing the next generation of giving. Such as Charity Water, Tom's Shoes, LiveStrong and many more. It's no surprise that the younger generation has taken a liking to the charitable world. It seems that you can create a very successful business along side of a successful non profit and can compliment each other rather well.
This rush of new non-profit ventures coming out excites doingmypart.com co-founders, Josh Delaney and Mike Spencer. They see a need for more of this movement and want to be on the front line.
"When you realize what your purpose is you can then become a servant of a cause bigger than yourself. It's epic every time you see someone win a life and death battle." -Josh Delaney
Everyone wants to act differently to a giving to someone who is living with death in their everyday lives. Everyone has a time line and an expiration date. Most of the world lives like we there is no time line.
The doingmypart.com founder Mike Spencer recently made it FOX Charlotte News as well as the local radio station to speak about the current project and whats coming next. Also found speaking with a media outlet, founder Josh Delaney recently shared the stage in front of 7,000 people with Notre Dame College Football Legend and real life star of the box office hit movie, "RUDY"...Rudy Ruettiger.
Check out the latest news from doing my part here.
###