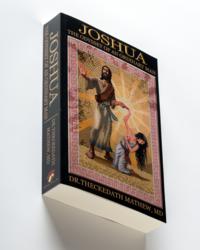 "JOSHUA gripped me and I finished it in five days. It is marvelously original. I really admire your determination, it is eminently readable and has many levels."

M.T. Vasudevan Nair
is a globally acclaimed best selling author and film director.
(PRWEB) June 27, 2013
THE LOST YEARS OF THE BIBLE
New Book Explores One Prophet's Plight to End Religious Injustice
With 2.2 billion believers, the Christian faith commands the majority of followers of all religions in the world. Joshua of Nazareth is thought to be the Son of God by those who believe, though some of his critics think that he was only a common criminal crucified on a cross. With eighteen years unaccounted for in the Bible, Dr. Theckedath Mathew began to ask himself, "What is the truth; who is really telling the truth?"
For over twenty years, Dr. Mathew pored over religious documents – dedicating time and talent, always fueled by passion – and pieced together his findings in what would become a book unlike any other: Joshua: The Odyssey of an Ordinary Man.
It all began when a 13-year-old indignant Jewish boy, Joshua, got up in the temple and asked some questions of the rabbi… the boy was quickly evicted. He then witnessed the most repulsive execution of the Mosaic Law as his cousin Rachel was stoned to death because her in-laws believed she was not a virgin. Joshua's visit to the Temple of Jerusalem didn't help – he found the House of God defiled, teeming with tourists and harlots. More than two thousand years ago, a young boy, dejected by the theocratic atrocities and disillusioned by executions, leaves Israel to embark on a journey in search of his ancestry and the meaning of man's existence on earth: this boy was Joshua.
Joshua: The Odyssey of an Ordinary Man brings Joshua back to life. Step by step, Dr. Mathew has readers walk with Joshua through an 18-year journey as he encounters many powerful and influential places and people. Readers will embark on a breathtaking journey through Galilee, Judea, Egypt, Rome, Greece, Babylon, Taxila and beyond while meeting the great thinkers of the West and philosophers of the East.
"Jesus, the hero of this narrative work of historical fiction, is the most fascinating and influential philosopher to have ever walked the Earth," Dr. Mathew says. "I want to dust off the years that are unaccounted for in the Bible and bring who this man really was to the forefront, in a time when religion has so much influence on our world."
In his riveting work of historical fiction, Dr. Mathew touches upon such topics as:

Who REALLY was Joshua of Nazareth – Son of God, common criminal, or ordinary man?
The reason behind the many myths and missing pages in the Bible, and what happened during this "forgotten time"
The origin of atrocities against women in religious fundamentalism – from genital mutilation, stoning, bride burning and beyond
The places, people, and lessons that most strongly influenced Joshua
Why Joshua's journey indicates that ordinary men can do extraordinary deeds
Joshua: The Odyssey of an Ordinary Man can be purchased from http://www.amazon.com, http://www.barnesandnoble.com, http://www.apple.com, and http://www.joshuatheodyssey.com.
REVIEW COPIES AVAILABLE UPON REQUEST.