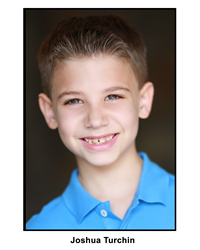 Fort Lauderdale, FL (PRWEB) December 01, 2015
Joshua Turchin, 9 years old, of Weston, Florida was recently cast as Randy Parker in the Broadway national tour of A Christmas Story, the Musical. Joshua, born in Coral Gables, a lifelong resident of Weston, and student at University School in Davie, was cast as one of the lead roles in this Broadway national tour after several weeks of auditions in New York City.
A Christmas Story, the Musical, music and lyrics by Benj Pasek and Justin Paul, is based on the well-known book and movie, and tells the story of Randy's brother Ralphie's quest for a Red Ryder Carbine Action BB Gun, and the trials and tribulations of their family through the Christmas season. The movie of the same name plays every year on TV on Christmas Day as "24 Hours of A Christmas Story".
Joshua started formal vocal and piano training in Davie when he was just 6 years old. Since then, he continued piano, dance and vocal training in South Florida and New York City.
"When I was 6, I told my parents that I wanted to be in a Broadway show by the time I was 9," said Joshua. "This has always been my dream."
The tour leaves NYC for Missouri and will have shows in Oklahoma City, OK; Tulsa, OK; Albuquerque, NM; Tempe, AZ; Spokane, WA; San Francisco, CA; and end in Denver, CO.
Joshua will be blogging along the way on his website, http://www.joshuaturchin.com, and posting updates and photos on his Instagram account @joshuaturchin, Twitter @joshuaturchin, and Facebook http://www.facebook.com/turchinjoshua.
For more information on the tour, visit http://www.achristmasstoryontour.com. For more information on Joshua, visit http://www.joshuaturchin.com or contact Jason Turchin at 305-609-4158 or jason(at)victimaid.com.
# # #