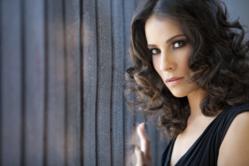 "If the dark side fueled by a deep-rooted need in all of us acted out it would be called Reina. I loved the dangerous challenge of giving her a voice and being part of the groundbreaking East Los High"
Los Angeles, CA (PRWEB) June 26, 2013
Jossara Jinaro will begin a dramatic multi-episode arc beginning Thursday, June 27th on "East Los High," a hulu.com and hulu plus exclusive series. The first English-language show with an all-Latino cast which has been in the top 5 on Hulu and #1 on Hulu Latino since it launched earlier this month.
Jossara Jinaro heats up the story line making an unforgettable entrance as Reina Martinez. Her fierce multi-episode arc centers on Maya's (Alicia Sixtos) stripper, alcoholic Mother. A sarcastic, bitter, pissed-off at the world, tough, and complicated woman trying desperately to save whatever is left of her relationship with her daughter.
"If the dark side fueled by a deep-rooted need in all of us acted out it would be called Reina. I loved the dangerous challenge of giving her a voice and being part of the groundbreaking East Los High," said the actress Jossara Jinaro.
Don't miss it!: http://www.hulu.com/watch/488570#i0,p16,d0.
Jossara Jinaro, "dynamic and versatile, the ultimate chameleon," "a classic beauty who fills her work with heat, passion, and intensity," is a sexy and fearless force of nature who continues to tackle Hollywood with her talent. She has worked with many heavy-hitters like Oliver Stone, Anne Hathaway, and Simon Baker.
Jossara is represented by McGowan Management.
For more information about Jossara Jinaro, please visit jossarajinaro.nowcasting.com ###