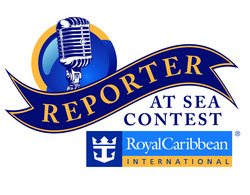 Miami, FL (Vocus) September 29, 2009
Continuing its tradition of breaking the mold, Royal Caribbean International is teaming up with USA TODAY to launch the "Reporter at Sea" contest in search of a talented citizen journalist to help cover one of the biggest travel stories of the year - the unveiling of Oasis of the Seas, the world's largest and most innovative cruise ship. Starting today through October 9, 2009, aspiring journalists are invited to enter to win the coveted job of special field correspondent onboard Oasis of the Seas' preview sailing alongside USA TODAY'S own cruise editor, Gene Sloan. Once onboard the ship, the lucky winner will receive behind-the-scenes access to file reports that will appear at USA TODAY's Cruise Log about one of the most buzzed about hospitality and entertainment stories of the year. In addition to the United States, the "Reporter at Sea" contest is searching for journalists in Canada, Germany, Mexico, and the United Kingdom with one winner from each country.
Eager reporters-to-be can audition for the assignment of a lifetime by submitting a creative video no longer than 45 seconds at reporteratsea.usatoday.com. The video should showcase his/her best reporting skills and tout why Royal Caribbean should select him/her to serve as a citizen journalist onboard Oasis of the Seas. Videos will be judged based on creativity and quality, as well as the entrant's ability to entertain, effectively bring to life and clearly explain travel or cruising concepts, and articulate why he/she should be chosen to represent their country.
Once the entry period ends, judges will select 10 finalists per country, and voters will choose their favorite video between October 20 and October 25. One winner from each country will be simultaneously announced on November 4 and will be flown with a guest to Fort Lauderdale, Fla., to cover the first pre-inaugural cruise onboard Oasis of the Seas from November 19 to November 22.
For more information on the "Reporter at Sea" contest, how to enter, the official rules, details on the prize and voting , please visit http://www.reporteratsea.usatoday.com.
When she launches in late 2009, Oasis of the Seas, which was named by a USA TODAY reader in a previous contest, will be the largest and most revolutionary cruise ship in the world. An architectural marvel at sea, she will span 16 decks, encompass 225,282 gross registered tons (GRT), carry 5,400 guests at double occupancy, and feature 2,700 staterooms. Oasis of the Seas will be the first ship to tout the cruise line's new neighborhood concept of seven distinct themed areas, which include Central Park, Boardwalk, the Royal Promenade, the Pool and Sports Zone, Vitality at Sea Spa and Fitness Center and Entertainment Place. The ship will sail from her home port of Port Everglades in Fort Lauderdale, Fla. Additional information is available at http://www.oasisoftheseas.com.
Royal Caribbean International is a global cruise brand with 20 ships currently in service and two under construction. The line also offers unique cruise tour land packages in Alaska, Canada, Dubai, Europe, and Australia and New Zealand. For additional information or to make reservations, call your travel agent, visit http://www.royalcaribbean.com or call (800) ROYAL-CARIBBEAN. Travel professionals should go to http://www.cruisingpower.com or call (800) 327-2056.
Readers can log on to cruises.usatoday.com for an active community of cruise enthusiasts and get an extensive resource of useful information for all their cruise traveling needs. Readers also can check out Gene Sloan's cruising blog and join the discussion at USA TODAY's cruise forum all at cruises.usatoday.com.
Royal Caribbean International Media Contacts:
Tracy Quan
(305) 539-6577
Erin Burden
(212) 445-8164
USA TODAY Media Contact:
Alexandra Nicholson
(703) 854-5872
NO PURCHASE NECESSARY. A PURCHASE WILL NOT INCREASE YOUR CHANCES OF WINNING. LEGAL RESIDENTS OF CANADA, GERMANY, MEXICO, THE UK AND THE 50 U.S. (& D.C.), 18 AND OLDER. VOID WHERE PROHIBITED Enter by: 10/09/09 at 11:59 p.m. ET. Prize: two (2) tickets for pre-inaugural cruise on the Oasis of the Seas cruise ship, plus travel accommodations. For Official Rules and prize descriptions, visit reporteratsea.usatoday.com. Sponsor: Royal Caribbean International, 1050 Caribbean Way, Miami, FL 33132, U.S.A.
# # #