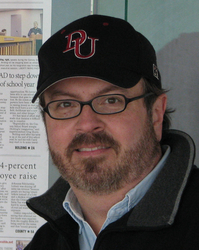 Denver, CO (Vocus) June 15, 2010
Journalists report the news, but the vast majority of reporters and editors seldom are the subject of feature profiles themselves.
That is ironic, since many of the personal stories behind the bylines of America's most influential journalists are every bit as intriguing as the people they cover.
Fascinating journalists and the tales of their lives and careers are the subject of a new column appearing regularly on the national edition of Examiner.com. The feature is written by Dean Rotbart, founder of NewsBios.com and a chronicler of influential global journalists for more than two decades.
Rotbart was recently named Examiner.com's National Journalist Examiner.
Since leaving The Wall Street Journal, where he worked as an award-winning columnist, editor and investigative reporter, Rotbart has served as one of the country's leading biographers of influential journalists.
NewsBios.com, which provides dossiers and in-depth personal background information to major corporations and public relations agencies, maintains a library of profiles on more than 7,000 active journalists and bloggers.
Rotbart's column and his NewsBios profiles appeal to journalists, corporate communications executives, PR firm staffers, J-School professors and readers who enjoy learning about newsrooms and journalists.
To subscribe for free to all of Rotbart's Examiner.com columns, readers can sign up at http://www.examiner.com/x-53563-Journalist-Examiner. Look for the "Subscribe" button at the top of Rotbart's columns.
Those interested in purchasing professionally researched profiles of leading journalists can obtain samples and full details at http://www.newsbios.com. A sister site, http://www.newsbios-on-demand.com offers a limited selection of profiles available for instant purchase and download, 24/7.
Unlike 'official' biographies, dossiers researched by NewsBios incorporate both career and personal details that are unauthorized by the journalists and therefore paint a full, unvarnished portrait of the target reporters and editors.
###