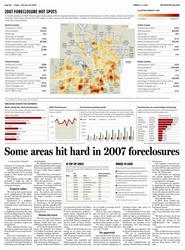 IRE is pleased to continue our partnership with ESRI
Redlands, California (PRWEB) February 10, 2009
ESRI and Investigative Reporters and Editors, Inc. (IRE), has agreed to continue offering IRE members the ability to license ArcView software at a reduced rate. ArcView is ESRI's easy-to-use desktop geographic information system (GIS) software and is the most widely used software by journalists to more effectively communicate local, national, and international stories to readers.
"As a professional organization dedicated to improving the quality of investigative reporting, IRE is providing its members with a groundbreaking opportunity to really change the way they report the news," says Simon Thompson, commercial business solutions manager, ESRI. "We are excited to continue our relationship with this outstanding organization and look forward to advancing its mission of fostering excellence in investigative journalism."
Many editors and journalists have already taken advantage of this opportunity, finding GIS indispensable for articulating information in ways that weren't possible before. Tom Setzer, graphics editor/computer assisted reporting with The Dallas Morning News, explains, "Since adding ArcView to our set of graphics tools, I've done hundreds of maps and graphics using the software. I consider it as essential to my job; there are maps we create for print and online that, practically speaking, could not be done without it."
Doug Caruso, assistant city editor of The Columbus Dispatch, emphasizes, "We turn to ArcView whenever the question 'Where?' pops up. We've shown our readers where political candidates won, where fire departments respond the fastest, and where new laws will allow sex offenders to live."
ArcView can be used not only for creating thought provoking maps but also for analyzing data used in stories. "As an environmental journalist, I've used mapping software to analyze toxic pollutants in Ohio River communities, illustrate the damage left by abandoned coal mines, and even show the statewide distribution of Ohio's wild turkeys," says Spencer Hunt, reporter, The Columbus Dispatch.
Members of IRE located in the United States will be able to license ArcView and additional extensions for specialized analysis. Licensees are required to attend a qualifying training session within one year of licensing the software. Attending a session ensures that journalists get the most out of the software and allows members to share their knowledge and experience with one another. The many training options that meet this criteria include ESRI's online and nationwide classroom training and computer lab-based training offered by IRE and National Institute for Computer-Assisted Reporting (NICAR).
"IRE is pleased to continue our partnership with ESRI," states executive director of IRE, Mark Horvit. "This agreement means that our members will continue to have access to innovative technology that helps them give their audience in-depth information in the best possible format." Find out more about Mapping Boot Camps. To obtain a software license order form please contact John Green, membership services coordinator for IRE, at jgreen@ire.org or 573-882-2772. For more information on how GIS assists the media, visit http://www.esri.com/media.
About ESRI
Since 1969, ESRI has been giving customers around the world the power to think and plan geographically. The market leader in GIS, ESRI software is used in more than 300,000 organizations worldwide including each of the 200 largest cities in the United States, most national governments, more than two-thirds of Fortune 500 companies, and more than 7,000 colleges and universities. ESRI applications, running on more than one million desktops and thousands of Web and enterprise servers, provide the backbone for the world's mapping and spatial analysis. ESRI is the only vendor that provides complete technical solutions for desktop, mobile, server, and Internet platforms. Visit us at http://www.esri.com.
ESRI, the ESRI globe logo, GIS by ESRI, ArcView, http://www.esri.com, and @esri.com are trademarks, registered trademarks, or service marks of ESRI in the United States, the European Community, or certain other jurisdictions. Other companies and products mentioned herein may be trademarks or registered trademarks of their respective trademark owners.
###