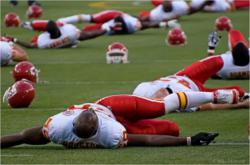 "Right now, the legal possibilities are up in the air. With the Jovan Belcher situation it is impossible right now to tell if a civil suit case will occur. It is up to the families of the victims and their attorneys to decide." Gary Annes
Chicago, IL (PRWEB) December 21, 2012
The recent Jovan Belcher murder-suicide tragedy is still being sorted out by investigators and speculation is developing about legal repercussions stemming from the incident. The fact is that such high profile tragedies have lead to civil suit cases in the past.
According to reports by CBS News, Kansas City Chiefs Linebacker Jovan Belcher fatally shot his girlfriend, then drove to Arrowhead Stadium and committed suicide in front of his coach and general manager. Further details have not been released, and may never come to light due to the nature of the incident.
"Right now, the legal possibilities are up in the air. With the Jovan Belcher situation it is impossible right now to tell if a civil suit case will occur," according to attorney Gary Annes of Abels & Annes, P.C. in Chicago. "It is up to the families of the victims and their attorneys to decide."
Three Notable Wrongful Death Civil Suit Cases
A wrongful death lawsuit can stem from many things, including auto accidents, premises liability, work injury, medical malpractice, construction accident, nursing home neglect or abuse, and from other types of negligence. The following cases show how wrongful death lawsuits can emerge from such high profile incidents:
-The OJ Simpson Civil Trial (No. SC031947 Cal. Super. Ct. filed July 20, 1994): Former NFL great and actor O.J. Simpson is one of most notorious figures to ever be held financially liable for another's death. After Simpson was acquitted in 1995 on criminal charges, he was sued in civil court by the Brown and Goldman families for the wrongful death of their loved ones. According to ABC News, in 1997, a civil jury found Simpson liable for the two deaths, and ordered him to pay $33.5 million to the families of murder victims Nicole Brown Simpson and Ron Goldman.
-The Phil Hartman Murder-Suicide (Case number B C210990): In a situation similar to the Jovan Belcher incident, "Saturday Night Live" actor and comedian Phil Hartman was shot to death by his wife, Brynn Hartman, who then took her own life. According to reports, Brynn Hartman's family sued Pfizer Pharmaceuticals, the maker of the anti-depressant Zoloft, which Brynn was taking for panic attacks. According to court documents, the family alleged that the drug drove Brynn to insanity, which caused her to shoot her husband and herself. The suit was settled for an undisclosed amount.
-The Dave Duerson Concussion Lawsuit (Case Number 2011N-0155): A wrongful death lawsuit was brought against the NFL by the family of former NFL star Dave Duerson. According to court documents, the family alleged that the league didn't do enough to prevent or treat the string of concussions that severely damaged his brain before he killed himself last year. The case is still in progress.
While the Jovan Belcher tragedy may never end up as a wrongful death lawsuit, the families of any wrongful death victim deserve justice. A lawsuit makes it possible for the family of a person who has died in an accident to receive compensation for their terrible loss.
Compensation can be sought for the following: The pain and suffering experienced by the deceased before they died, funeral expenses, medical bills and expenses, loss of the future earnings, the grief and sorrow of the surviving family members, and punitive damages.
About Abels & Annes, P.C.
Abels & Annes, P.C. is a personal injury law firm in Chicago, IL dedicated to helping injured victims get the compensation they deserve. The attorneys at Abels & Annes, P.C. fight to protect client's rights and maximize the financial benefits for injuries, lost wages, and pain and suffering. The firm's experienced lawyers have also won millions in wrongful death civil suit case settlements for their clients. Contact Abels & Annes today for a Free Consultation.