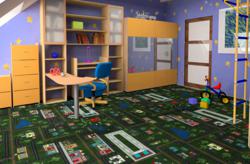 Chandler, AZ (PRWEB) April 19, 2013
Rubber Flooring Inc. has expanded their line of carpet tiles available for sale online and has now made available Joy Brand carpet tiles. Joy carpets is a leader in specialty carpet design and focuses on carpeting designs for schools, libraries, bowling alleys, healthcare facilities, and entertainment venues.
"Over the past year, we have worked very hard to expand our line of carpet tiles available for sale online," states RubberFlooringInc.com COO Kurt Leitinger. "During that time, we noticed a void in our offering. We realized our selection of kid's carpet tiles was lacking any truly colorful and/or fun options." Mr. Leitinger continues, "After looking around for suppliers we found an amazing partner in Joy Carpets who was willing to offer us a vast array of colorful carpet tile solutions that work great for kids rooms and for commercial entertainment venues such as bowling alleys and arcades."
"Joy Carpets is based out of Georgia and has been extremely successful selling to the commercial market place," RubberFlooringInc.com Director of Operations Justin Hoverson adds. "During the process of becoming partners, we found out that Joy had yet to tap into the residential marketplace outside of selling a few kids rugs through some other online retailers. We are the first online retailer to offer their carpet tile line and we believe we will help them grow a whole new market of customers. With our launch of the Joy brand carpet tile line, residential homeowners will for the first time be able to purchase a wall to wall carpeting solution designed specifically for kid's rooms."
The RubberFlooringInc.com merchandising team is also extremely excited about the new product additions. Lead Merchandiser Lamont Robbins added "What kid wouldn't want some carpeting in their bedroom that glows under black light? We have patterns for virtually every type of room imaginable now. We have crayon pattern carpet tiles. We have a pattern with books on it that would be great for study areas. We even have a carpet tile with jelly beans on it and what kid doesn't love jelly beans? These fun patterns were previously only available to commercial users such as schools, movie theaters, and bowling alleys. We have now made it possible for residential users to have the same fun carpeting in their own homes."
About RubberFlooringInc.com, a subsidiary of IncStores.com.
Headquartered in Chandler, AZ, RubberFlooringInc.com owns the leading online destination for residential and commercial specialty flooring and matting options including RubberFlooringInc.com, FoamTiles.com, and Garage FlooringInc.com. Rubber Flooring Inc. is focused on providing the best selection of gym flooring, garage flooring, martial arts matting, and carpet tile products online to its valued customers. All of IncStores.com web shops offer competitive pricing, a top notch and knowledgeable in house sales and service staff, and the widest selection available. For more information, please visit http://www.rubberflooringinc.com.