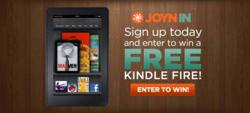 JoynIn is a powerful tool for the San Francisco social scene to take advantage of. It not only helps people make plans with friends but helps them get the most out of their connections." -Trevor Hewitt Co-owner Slide and Ruby Skye
San Francisco, CA (PRWEB) February 22, 2012
JoynIn, the social app that rewards people for going out with their friends, announces a sweepstakes to win a Kindle Fire.
It's So Easy
There are three simple things that can increase a person's number of entries in the sweepstakes to win the Kindle Fire: 1) registering on JoynIn, 2) inviting friends who become JoynIn users and 3) checking in at participating JoynIn businesses in San Francisco. People can enter the sweepstakes at heyjoynin.com.
Bring in Friends, Get Special Offers
Getting great offers and creating memorable experiences with friends by using JoynIn is simple. Bring a group of friends together by organizing a drop-in on JoynIn, claim an offer at a featured business ("spot") for a group of friends, and lastly redeem the offer by checking in at the spot with friends using the JoynIn iPhone or Android app. Checking in with friends unlocks valuable offers for things such as: door admission, VIP service, drinks and food at the hottest clubs, bars, restaurants and cafes in town. People also accumulate points every time they check in with their friends at JoynIn spots that can be redeemed for cool rewards like a Chef's Dinner, complimentary entrees or a VIP table.
Only The Hottest Spots
The hottest spots in San Francisco are on JoynIn. When people check in at JoynIn spots to unlock offers with their friends, they also increase their chances to win the Kindle Fire. Among the San Francisco spots on JoynIn are: Slide, Ruby Skye, Fog City Diner, Philz Coffee, Forbes Mill Steakhouse, Bar Basic, The Republic, Vessel, Tope, Tupelo, Txoko, The Butler & The Chef Bistro and Eastside West Restaurant & Bar.
To see a full list of San Francisco spots and offers on JoynIn as well as the bartenders, waiters & baristas they can follow to receive valuable offers.
Email us at: info(at)heyjoynin(dot)com
About JoynIn
For people who want an easy way to get together with friends, JoynIn is the way to make their experiences great by connecting them with their favorite people, employees and places. JoynIn rewards people for going out with their friends….Seriously. JoynIn users can unlock valuable offers and earn rewards, simply by showing up at JoynIn spots with their friends. JoynIn is based in San Francisco, CA and currently serves the San Francisco market. JoynIn is a trademark of JoynIn, Inc.
Kindle, Kindle Fire, and Amazon are trademarks of Amazon.com, Inc. or its affiliates. Kindle devices are given away on behalf of JoynIn. Amazon is not a sponsor of this sweepstakes.
###