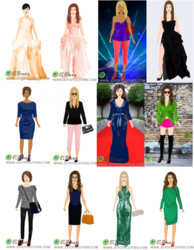 Dressing like a celebrity is fun but only follow the celebrity styles which suit you.
Michaela Jedinak, Personal Stylist and Founder Joy of Clothes.
(PRWEB UK) 19 April 2012
Joy of Clothes, your personal stylist online, makes it easier than ever to dress like a celebrity. The Style Me channel helps women see which celebrity looks flatter their body shape. The unique Buy the Look function then helps women discover similar clothes in their preferred price range.
Joy of Clothes recognises that women are often influenced by celebrity fashion and fall in love with their outfits. However it is not always possible and it is often unwise to buy exactly the same thing.
Firstly, not every one can afford celebrity style so Joy of Clothes suggest alternatives at a wide range of price points.
Secondly, the clothes celebrities wear may be specially made, unavailable on the high st or out of stock. Joy of Clothes will search for the most similar items currently in stock from their database of 150,000 clothes from all the top retailers.
Thirdly, the garment may not be appropriate for their age, body shape or colouring. While women may be inspired by celebrity fashion they should not become a fashion victim. Joy of Clothes recommends women identify the colour, garment type or style they like and make it appropriate for them.
Joy of Clothes helps women discover and buy what to wear for their body shape.
On Joy of clothes women can find celebrities to follow of all shapes and sizes including Angelina Jolie,Kate Middleton,Kate Moss, Jennifer Lopez, Cheryl Cole, Beyonce and Gwyneth Paltrow
Joy of Clothes Style Me is like having a personal stylist on call all the time, helping women discover and buy the clothes, colours and trends which suit them.
On Style Me women can create a model of their body shape and colouring and then discover styles that suit them based on stylist recommendations. If they prefer they can create models of friends , family or celebrities and dress them like a stylist!
About Joy of Clothes:
Joy of Clothes. Discover and buy the clothes that flatter your body shape,eye,hair and skin colour. Stylist advice on how to look your best. Create your model to see what to wear for your body shape. Buy women's clothes from all the top shops and designers. Joy of Clothes was founded by Michaela Jedinak, personal stylist and David Lethbridge.
Michaela Jedinak has a unique range of experience from the fashion, media and design industry in London, New York, Milan and Prague. As MD of Cosmopolitan Prague, she developed her passion for colour and style, before going on to set up her highly successful colour and style consultancy. More details at http://www.michaelajedinak.com.
Michaela Jedinak
michaela (at) joyofclothes (dot) com
Mobile: 0044 780 313 9755
David Lethbridge has a consumer marketing background followed by over 20 years new media experience. David was co-founder and CEO Confetti , one of the first wave of consumer internet businesses in the UK . Developed Confetti into a profitable multi-channel business including stores, catalogues and Confetti branded products and books.
David Lethbridge
david (at) joyofclothes (dot) com
Mobile: 0044 795 736 2133