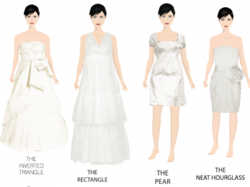 On your wedding day, you want to feel comfortable as well as look great. Choosing a wedding dress with the best style and fit for your body shape will give you the WOW factor. Michaela Jedinak
(PRWEB UK) 31 May 2012
Joy of Clothes recognises that the hunt for the perfect wedding gown can be exciting, emotional and at times exasperating. There are so many choices . Not every dress is equally suited to every bride. Beauty comes in all different shapes and sizes but there is a dress for everyone. Michaela Jedinak, personal stylist, recommends that before brides go shopping they understand their body shape and the features which should be highlighted or hidden
It is easy for brides to fall in love with a beautiful dress which may not be flattering for their shape. On Joy of Clothes Style Me channel brides can try out designer wedding dresses on an avatar so they can see which ones flatter their body shape and create attractive visually balanced look.
Brides can choose wedding dresses inspired by leading international fashion designers. They may try on iconic celebrity wedding dresses including Kate Middleton, Duchess of Cambridge, Princess Diana, Kate Moss, Jackie Kennedy, Marilyn Monroe, Grace Kelly , Kim Kardashian.
There are hundreds of wedding dress colours to choose from so brides can experiment to find the perfect colour whether it be a shade of white or something bolder. Personal Stylist Michaela Jedinak advices which colours will best complement their eye, hair and skin colour
Joy of clothes Style me also lets brides complete the look with wedding shoes, bags and accessories.
This fun and educational styling tool will help brides create a short list to share and discuss with friends and family before visiting a bridal boutique or buying a wedding dress online from one of Joy of Clothes retail partners which include Net-a-Porter, Harrods,Selfridges,House of Fraser ,Debenhams and Coast.
Follow us on Facebook,Twitter,Google + and Pinterest.
About Joy of Clothes:
Joy of Clothes. Discover and buy the clothes that flatter your body shape,eye,hair and skin colour. Stylist advice on how to look your best. Create your model to see what to wear for your body shape .Buy womens clothes from all the top shops and designers. Joy of Clothes was founded by Michaela Jedinak and David Lethbridge.
Michaela Jedinak has a unique range of experience from the fashion, media and design industry in London, New York, Milan and Prague. As MD of Cosmopolitan Prague, she developed her passion for colour and style, before going on to set up her highly successful colour and style consultancy. More details at http://www.michaelajedinak.com.
Michaela Jedinak
michaela (at) joyofclothes (dot) com
Mobile: 0044 780 313 9755
David Lethbridge has a consumer marketing background followed by over 20 years new media experience. David was co-founder and CEO Confetti , one of the first wave of consumer internet businesses in the UK . Developed Confetti into a profitable multi-channel business including stores, catalogues and Confetti branded products and books.
David Lethbridge
david (at) joyofclothes (dot) com
Mobile: 0044 795 736 2133