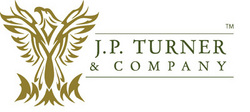 Those of us that work for J.P. Turner aren't surprised that the firm would rank so highly
Atlanta, GA (PRWEB) March 1, 2009
J.P. Turner & Company, LLC was voted one of the top 100 best places to work in the global financial markets for 2009, according to a poll conducted by Here is the City, London's fastest growing financial website. J.P. Turner placed 39th -higher than AIG, Wells Fargo, Wachovia, Deutsche Bank, US Bancorp and Edward Jones, to name just a few.
"Those of us that work for J.P. Turner aren't surprised that the firm would rank so highly," commented Tony Mowrer, branch manager for their Atlanta office. "The company was founded by two independents, Tim McAfee and Bill Mello, and they truly understand the support we need to grow thriving businesses. They take a proactive approach - expanding services and products as reps, investors and the marketplace demand so we remain competitive and generally ahead of the curve."
J.P. Turner & Company, LLC, is a full-service independent investment banking and securities brokerage firm headquartered in Atlanta with some 150 branch offices nationwide. Its affiliate company, J.P. Turner & Company Capital Management, LLC, offers investment planning and advisory services. J.P. Turner was founded in 1997 by Bill Mello and Tim McAfee. Mello and McAfee have assembled a strong leadership team of seasoned financial brokers and advisors who, like themselves, truly understand the challenges faced by independent representatives in the field. The company is a member of SIPC and the National Investment Banking Association. J.P. Turner is consistently voted one of the top 50 independent broker/dealers by Investment News and one of the top broker-dealers by Financial Advisor.
###