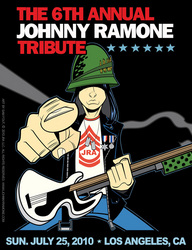 Special guest Kirk Hammett of Metallica will introduce a screening of Johnny's favorite film, James Whale's 1935 horror classic "The Bride of Frankenstein".
Los Angeles, CA (PRWEB) July 15, 2010
The legendary guitarist Johnny Ramone--named one of the "10 Greatest Electric-Guitar Players" by Time magazine--of the pioneering punk rock group The Ramones, will be honored by fans and celebrity alike on Sunday, July 25th at Hollywood Forever Cemetery (6000 Santa Monica Boulevard) in Los Angeles.
In celebration of the 6th annual Johnny Ramone Tribute special guests, Rock and Roll Hall of Fame inductees Kirk Hammett (Metallica), and Ramones founding member and original drummer Tommy Ramone, along with "Rock 'n' Roll High School" co-stars PJ Soles & Dey Young and other luminaries from the music and film community, join Johnny's wife Linda Ramone, and Johnny Ramone Army Chief of Staff John Cafiero, in celebration of the life and legacy of the rock legend.
The annual Johnny Ramone tribute is attended by thousands of fans, many of whom travel in from around the globe, along with a multitude of celebrities, all paying homage to the man who's incomparable guitar style put punk rock on the map. Ramone, who created the enduring template for punk rock with his blazing power chords and relentless down-stroke, energized Ramones' classics like "Blitzkrieg Bop", "Rockaway Beach" and "Sheena is a Punk Rocker". Johnny Ramone influenced pop culture beyond the band's record sales, reaching the status of a true American icon.
Attendees in prior years include Lisa Marie Presley, actor Vincent Gallo, actress Rose McGowan, musicians Henry Rollins, Steve Jones of the Sex Pistols, John Frusciante & Flea of the Red Hot Chili Peppers, Eddie Vedder, and countless more.
On site activities at the special outdoor event include scheduled autograph signings, photo ops, and more including the opportunity to visit the 8-ft, bronze Johnny Ramone memorial statue housed on the cemetery grounds and the gravesite of seminal punk bassist and Ramones co-founder Dee Dee Ramone. After sundown, double feature, drive in style movie screenings commence projected on a 24-ft mausoleum wall to cap off the event.
The evening will begin with Roger Corman's Cult Classic: "Rock 'n' Roll High School" presented in an amazing, all-new high definition, anamorphic transfer from Shout Factory - looking better than it did in its initial 1979 theatrical release! The film stars THE RAMONES themselves and features an unforgettable live concert performance that's the next best thing to being there live. Stars PJ Soles (Riff Randell) and Dey Young (Kate Rambeau) will be joined by supporting cast including Loren Lester (who played the infamous Hall Monitor 'Fritz Hansel' in the film) as well as screenwriters Richard Whitley and Russ Dvonch (with more to be announced). The cast and crew will share memories of making of the film, their first hand experiences with the Ramones on set - plus meet the fans and sign autographs too!
Concluding the festivities, special guest Kirk Hammett (Metallica) will introduce a screening of Johnny's favorite film, James Whale's 1935 horror classic "The Bride of Frankenstein", now celebrating its 75th anniversary. A guitar legend in his own rite, Hammett will reflect on his friendship with fellow Rock and Roll Hall of Famer, the celebrated Johnny Ramone, and his love of this timeless cinematic masterpiece.
The 6th Annual Johnny Ramone Tribute is open to the public for a $10 per person minimum donation as required admission. Net proceeds benefit the Johnny Ramone Research Fund at USC Westside Prostate Cancer Center lead by Dr. David Agus. Gates for the event will open at 6:00pm, and picnic dinners, drinks (including alcohol), pillows, blankets and small chairs are permitted.
Event Location:
Hollywood Forever Cemetery
6000 Santa Monica Boulevard
Gates open 6pm Film screenings begin at Sundown
For media inquiries on The 6th Annual Johnny Ramone Tribute please contact
info(at)johnnyramone(dot)com
About Johnny Ramone Army
For more information about Johnny Ramone, the Johnny Ramone Army and the annual tribute,
visit http://www.johnnyramone.com
###