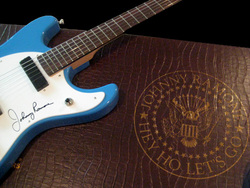 Listed in Time Magazine's "10 greatest electric guitar players" and named #16 in Rolling Stone Magazine's top 100 guitarists of all-time, Johnny was the driving force behind the Ramones.
Los Angeles, CA (PRWEB) October 8, 2010
Over the years many have claimed to deliver guitars authentically modeled after Johnny's weapon of choice, but look no further... they've arrived. These top of the line guitars are painstakingly perfected to maximize performance; and in the true spirit of the Ramones, they're affordably priced, without compromising quality, in an effort to make them accessible to all who will truly appreciate them.
Remaining authentic to their vintage roots, the all-new official Johnny Ramone guitars are brought to you by Hallmark Guitars USA, a company founded in 1965 by one of the core designers of Johnny's famed 6-string originally purchased in NYC back in 1974.
Many guitar enthusiasts are unaware that Johnny Ramone used a rare, early 1965 prototype model of a Ventures II, a guitar utilizing a core design by Hallmark founder Joe Hall. This early prototype was quickly pulled by the manufacturer and replaced with a substantially different model. It's been estimated that only 25 pieces of the original Ventures II prototypes were assembled and sold before production ceased. This was the model specifically used by Johnny Ramone to change the face of music. It's been gone ever since. Now, its back...
Setting them apart from those who market nothing more than a brand name under an acquired franchise, Hallmark Guitars reap the benefit of direct involvement from key players who literally worked hands-on the production, and created the design of the original guitar developed in the 1960's. Acclaimed custom guitar builder/designer, and current Hallmark President, Bob Shade spearheads the company optimizing the potential of Johnny's model for a present day criterion without diluting its classic sound. Hallmark has even developed new improvements, never employed on the old designs. While seamless aesthetically, these modifications perfect audible performance and resolve many issues inherent in the original model (and those that followed in its footsteps later), while still maintaining its unique, vintage tone that's unmistakably the guitar voice of the legendary Johnny Ramone.
In addition to an incredible guitar at and affordable price, the all-new Official Johnny Ramone model guitars are available in various special editions with features such as, Johnny's facsimile signature on the pick guard, official Johnny Ramone Army headstock (featuring a portrait of Johnny by world renowned artist Shepard Fairey of Obey/Giant), special Ltd. Ed. camouflage JRA finish, period pickup choices, plus a variety of custom logo cases, including alligator skin with official Johnny Ramone eagle seal emblazoned in gold ink.
Fall-in Johnny Commandos, perfect your down-stroke and make some history of your own with the all-new, Official Johnny Ramone Guitars available now from Hallmark Guitars USA.
Retailers interested in carrying Official Johnny Ramone Guitars, please contact Hallmark Guitars USA at 1-240-473-1157 to order worldwide, or click here to send them an email.
Dean Markley Strings joins forces with the Johnny Ramone Army to exclusively offer Commandos worldwide the unique opportunity to secure the exact gauges and proprietary alloys used by the rock icon himself, in creating one of the most highly sought after guitar sounds in the world. Guaranteed 100% authentic, Johnny Ramone guitar strings are available now for the first time anywhere, only from Dean Markley.
Johnny Ramone invented the relentless; down stroke guitar style, defining the groundbreaking sound of the legendary Ramones and the guitar voice of the punk rock movement in general. Listed in Time Magazine's "10 greatest electric guitar players" and named #16 in Rolling Stone Magazine's top 100 guitarists of all-time, Johnny was the driving force behind the Ramones, sometimes referred to as a drill sergeant, bringing order and regiment to the band. This is evident in the speed, accuracy and intensity of their music. Johnny kept the Ramones focused and moving forward, ultimately securing their place in rock history. The Ramones were inducted into the Rock and Roll Hall of Fame in 2002 and their popularity only continues to grow as each year passes. Johnny's strength endures, remaining timeless and immortal, along with the music and aesthetic he created with the world famous Ramones.
Official Johnny Ramone electric guitar strings by Dean Markley are now shipping worldwide! Expect them to arrive in stores late Fall 2010. Visit your local music shop and ask for them by name... You'll also find them in the JRA online store in the coming weeks.
Retailers interested in carrying official Johnny Ramone "Commando Gauge" Guitar Strings please contact Dean Markley Strings Toll-free: 800 800 1008 or click here to contact them by email and place wholesale orders from anywhere in the world.
For more info on Johnny Ramone and the Johnny Ramone Army click here to visit the Official Website.
# # #