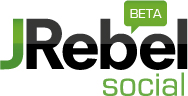 Just started using JRebel; installation was done in 15 minutes and 1 hour later it saved me 20 minutes of restart time. @tbeernot
Tartu, Estonia (PRWEB) September 21, 2011
ZeroTurnaround OÜ, creator of award-winning Java productivity software for both development and production environments, today released JRebel 4.5 and announced JRebel Social, a beta version of the popular "redeploy killer" that is free for non-commercial use.
"JRebel Social is meant for anyone working on non-commercial projects who is tired of building and redeploying their code. For a while now, we've been trying to think of a good way to offer a free version of JRebel, and I think we're off to a good start with the JRebel Social beta," commented ZeroTurnaround's CEO, David Booth.
JRebel Social (https://social.jrebel.com) works by identifying authorized users and automatically delivering a JRebel license token directly to the developer. Developers can log in to JRebel Social beta using their Twitter or Facebook login IDs.
JRebel is productivity software that allows Java developers to instantly see any code change they make, without the need to build or redeploy the application. According to the 2011 Java EE Productivity Report, redeploying alone consumes an average of 10.5 minutes of each coding hour, for most Java EE developers (over 5 work weeks each year). http://www.zeroturnaround.com/java-ee-productivity-report-2011/
JRebel 4.5, apart from JRebel Social beta, incorporates new features and updates from the last major release of JRebel 4.0 in May 2011 (http://www.zeroturnaround.com/blog/jrebel-4-0-released-redeploys-beware/)
New additions and features include support for:

Java 7, JBossAS 7, Apache Wink, Spring Web Services, JAXB
Managed beans and JSF components
Injecting EJB references into Servlets on WebLogic 10.3.x & Glassfish 3.x
A new embedded JRebel for IntelliJ IDEA plugin
"There are millions of Java developers who are simply fed up with redeploying every time they make any change to their application. We believe that JRebel Social beta is a great way to introduce a shocking fact…that there is a way to eradicate builds and redeploys in Java, and now it's free for non-commercial users," added ZeroTurnaround CTO and co-founder, Jevgeni Kabanov.
JRebel is available as a yearly subscription, starting at US$265.00 per developer, per year for the Base edition. The Enterprise edition, includes a License Server that supports "floating" licenses and management reporting for larger teams. Premium Support for teams of 10 and larger is also available.
JRebel Social: https://social.jrebel.com/
JRebel: http://www.jrebel.com
About ZeroTurnaround:
Founded in 2007 in Estonia, ZeroTurnaround makes Java more productive for both development and production teams with award-winning Rebellion technology. JRebel and LiveRebel integrate directly into the JVMs, application servers and development tools of the world's leading financial, web application and technology firms, including the Bank of America, American Airlines, Lufthansa, LinkedIn, HP, Siemens, Logica, Kayak, Oracle, IBM, and more.
ZeroTurnaround is proud to support the Eclipse Foundation as a solutions member. The company has won numerous awards, including a JAX Innovation award (2011, JRebel), Jolt Productivity Award (2009, JRebel) and, most recently, the Estonian Innovation Award (2011, ZeroTurnaround).
ZeroTurnaround is looking for marketing people in Prague, engineers in Estonia, and sales people in Boston. Join the Rebellion. http://www.zeroturnaround.com
###