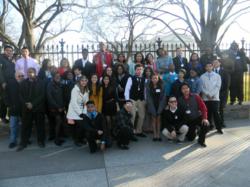 We worked countless hours, stayed in school from dawn to dusk, all for the sole purpose of fighting apathy in our community, and growing as a family.

-Cristian Vides, Plainfield High School Chapter President and Mid-Atlantic State Govenor.
Washington, DC (PRWEB) June 05, 2013
The Junior State of America (JSA) announced today that the winner of it's National Civic Impact Award is Plainfield High School from Plainfield, New Jersey. The National Civic Impact Award recognized the JSA chapter that has had the biggest impact on increasing the level of civic education, activism and engagement at their school and community.
Plainfield was chosen from among ten finalists, all of which had won the Chapter of the Year Award in their region of the county. A panel of judges consisting of trustees of The Junior Statesmen Foundation and JSA alumni reviewed presentations given by Chapter Presidents and other materials submitted by the finalists, leading to Plainfield's victory. Richmond High School in Northern California was a close second.
Mr. Jeff Truitt, who has been the Teacher Advisor of the Plainfield chapter for the past 27-years, was thrilled upon hearing the news his chapter had won. "On behalf of the Plainfield Chapter, we are truly honored and grateful to have received the Junior State of America's National Civic Impact Award. Junior State of America provides wonderful opportunity for thousands of students nationwide to grow, learn and appreciate the American political process and ultimately the value of a free and democratic society."
In winning the award, the Plainfield chapter will receive a $2,000 grant to the chapter in order to continue their civic engagement programs in the upcoming year, a $500 stipend to the chapter's advisor and a plaque that can be displayed in the school's award case. Plainfield's Chapter President, Cristian Vides was thrilled about the award, "After 27 years of the Plainfield Chapter's existence, it is an honor to accept our first ever National Civic Impact Award. We worked countless hours, stayed in school from dawn to dusk, all for the sole purpose to fight apathy in our community, and to grow as a family."
The other winners of the state Chapter of the Year Awards were: New Rochelle High School from New Rochelle, NY, Naples High School from Naples, FL, Danville High School from Danville, KY, John Cooper School from The Woodlands, TX, Illinois Math and Science Academy from Aurora, IL, Richmond High School from Richmond, CA, Valencia High School from Placentia, CA, Kofa High School from Yuma, AZ, and Westview High School in Portland, OR.
Junior State of America (JSA): Providing civics education and leadership programs for nearly 80 years, JSA is the largest student-run organization in the United States. School-year programs take place in more than 450 secondary schools in 35 states, with more than 10,000 members. The JSA program is supported by the Junior Statesmen Foundation Inc., a 501(c)(3) tax-exempt educational corporation, which provides guidance to JSA's student leaders. It has offices in San Mateo, Calif., and Washington, D.C. More information is available at http://www.jsa.org/ or jsa(at)jsa(dot)org.
###