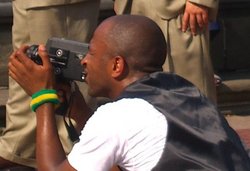 JT3 Art Celebrates Young Filmmakers
Brooklyn, NY (PRWEB) October 14, 2009
On Thursday, October 22, 2009, JT3 Art will host the First Annual "JT3 Art Celebrates Young Filmmakers" event at the Brooklyn Academy of Music's esteemed BAMcafe from 7:00PM to 10:30PM.
JT3 Art is a foundation established in memory of the late aspiring filmmaker Jesse Thompkins III ("Inside Man", "Munich", "Michael Clayton", "Definitely, Maybe," "Rescue Me"). Jesse's passion to write and direct drives JT3 Art's mission to support the best emerging filmmakers who need it the most.
The event will celebrate the recipients of JT3 Art's 2009 grant program for aspiring writer/directors who found themselves struggling between making ends meet, and pursuing their artistic dreams.
Filmmaker Adam Brooks (credits include "Definitely, Maybe", "Bridget Jones: The Edge of Reason", "French Kiss", "Almost You") will present the top distinction of the evening. Tony nominated actor Brandon Victor Dixon (Harpo in "The Color Purple") will be the evening's emcee.
The award winning short films of the five grantees will be screened, and representatives from African American Women In Cinema, New York Women in Film and Television, Art House Productions, roc-elle records, and other industry professionals are slated to attend.
Live entertainment will include music by Brazz Tree, ZXL, Roland Ramos & Friends, and The Ish Master.
Tickets are $55
Student/Senior Discount: $30
Dressy casual to semi-formal attire.
For more information about the event, please visit http://www.jt3artyoungfilmmakerscelebration.org/. Tickets can be purchased at http://www.bam.org/jt3artcelebration.
###