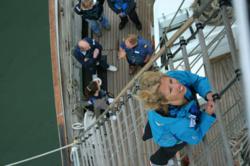 The mast climb is such a thrilling way to raise money for a great local charity. The main mast is certainly a challenge for those climbing, but also a really fun day out for those cheering their family and friends all the way to the top
(PRWEB UK) 5 July 2011
Fancy doing something out of the ordinary? Fancy feeling the wind in your hair and getting a bird's eye view? Well how about this for an experience?
On Saturday 6th August 2011, from 10am to 4pm, the Jubilee Sailing Trust (JST) will be offering you the chance to climb to the top of the mast on its 65 metre long tall ship Tenacious when she is berthed in Southampton. This is a daring effort and will test your nerve and strength as you clamber up rope and wood ladders to reach the 123ft high button - the top of the mast.
Tenacious, and Jubilee Sailing Trust's other ship Lord Nelson are the only ships of their kind in the world that have been designed and built to enable crews of all physical ability to sail side by side as equals.
Alex Lochrane, the Chief Executive of the JST said of 2010's mast climb on Lord Nelson:
"The mast climb is such a thrilling way to raise money for a great local charity. The main mast is certainly a challenge for those climbing, but also a really fun day out for those cheering their family and friends all the way to the top!"
All climbers are asked to raise a minimum of £150 in sponsorship in return for a thrilling experience of a lifetime.
For more information please contact Kelly Carter on fundraising(at)jst(dot)org(dot)uk or 023 8042 6868
Notes to Editors:

For more information, photographs, testimonials and stories please contact the JST Press Office on 023 8044 9108 or email: pressoffice(at)jst(dot)org(dot)uk
The Jubilee Sailing Trust (JST) was established in 1978 and operates under the patronage of HRH the Duke of York. The aim of the charity is to promote integration between able bodied and physically disabled men and women through the adventure of tall ship sailing.
The JST has been in operation for over 30 years and in that time has taken over 36,000 people to sea including more than 14,000 people with physical disabilities and 5,000 wheelchair users. LORD NELSON and TENACIOUS have many special facilities that enable disabled crew members to take an active part in the running of the ship. Facilities on board include wide decks for wheelchair users, a speaking compass to enable blind people to helm the ship, power assisted hydraulic steering for those with limited strength and much more.
Everyone on board the ship has a vital role to play irrespective of ability, disability, age or gender. The success of each voyage depends on teamwork and working with individuals' strengths, not weaknesses. For many people sailing with the JST has been a life changing experience, for others simply a fantastic adventure holiday.
The JST website can be found at http://www.jst.org.uk. Keep updated with life onboard with our daily web reports, emailed everyday from LORD NELSON and TENACIOUS.
The Jubilee Sailing Trust is part of Holidays For All - a group of the UK's leading disability charities and specialist tour companies working together to promote equality, accessible holidays and flexibility for disabled and visually impaired holiday makers
###