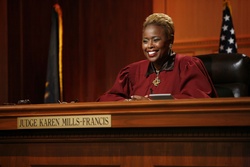 I'm like the mother everyone should have had
CULVER CITY, Calif. (PRWEB) August 14, 2008
Presiding over the new syndicated TV show is Judge Karen Mills-Francis who is known for her burgundy robe, feisty personality, bright blonde hair and compassionate heart. A native of Miami, Florida, Judge Karen is a razor-sharp, no-nonsense jurist who is smart and tough, yet sensitive to all. Her priority is to keep the courtroom experience realistic as she uses her intelligence, determination, and sense of humor to deliver justice every day.
JUDGE KAREN features several groundbreaking elements that distinguish it from the competition and that keep the courtroom experience true to life:
Unlike other court shows JUDGE KAREN allows her litigants to cross-examine their witnesses. At times, this questioning can turn contentious and the conversations can dramatically affect the case outcome. At the end of each episode is a segment called "Ask Judge Karen" in which viewers who have sent videos to the judge get their legal questions answered on the air. In this unique audience interaction segment, Judge Karen addresses viewers' legal queries directly and answers them in accessible layman's terms. The contemporary décor of the JUDGE KAREN courtroom features technological advances as well as vibrant and illuminating colors. Judge Karen's bench and each litigant's desk will contain a telestrator - a device popular among NFL broadcasters, cable news networks and modern courtrooms - which allows a user to draw over images, highlighting and focusing in on the object or scene in question. This tool will allow Judge Karen to clearly refer to the physical evidence and make for more lively and incisive testimony. "I'm like the mother everyone should have had," says Judge Karen. "My show is representative of a real courtroom, and the people who come before me are held responsible for their actions."
"Judge Karen cares about the integrity of her courtroom first and foremost," says Rich Goldman, executive producer, Sony Pictures Television. "She believes in authenticity, and audiences respond to that just as much as they enjoy her humor and her home-spun wisdom."
Born and raised in Miami, Florida, Judge Karen was elected twice as Miami-Dade County Judge, only the second African American woman ever to serve in that position. She is a respected advocate for disadvantaged youth and victims of domestic violence, advocating that lawyers act as guardians for children in families where domestic violence occurs. She has volunteered as a foster parent herself, repeatedly opening her home to those in need. She is a graduate of Bowdoin College, and the law school of the University of Florida, Gainesville.
JUDGE KAREN is cleared in 92% of the U.S., including 48 of the top 50 markets for the 2008-2009 season. The show is produced in New York. For audience tickets, or to have a case considered for JUDGE KAREN, visit http://www.judgekarentv.com.
JUDGE KAREN is a Sony Pictures Television production. Sony Pictures Television also produces the Emmy Award® nominated JUDGE DAVID YOUNG which premieres its second season on September 8, 2008.
MULTIMEDIA GALLERY http://www.businesswire.com/cgi-bin/mmg.cgi?eid=5756005